Last Updated on February 28, 2019 by Laura Turner
This article is reprinted with permission from the American Student Dental Association. It originally appeared in the summer 2012 issue of Mouth.
by Dr. Dulde
What are you strengths? What are your weaknesses? Where do you see yourself in five years?
Whew! Now that we've got that out of the way, it's time to consider some interview questions that really get to the meat and potatoes of an associate/owner relationship.
If you're considering an associate position, the interview is the time to determine if the hiring dentist is right for you, too. Unfortunately, standard questions don't always get the job done, particularly if your goal is more entailed than "find a paying job." If you're on the lookout for an associateship with the potential for ownership, it's critically important to ask questions that evaluate your compatibility with the hiring doctor.
Here are four often-overlooked questions that can help you find a great fit.
1. How do you handle conflict within the dental team?
This will give you an indication of how much staff conflict regularly exists in the office and how a conflict between the two of you might play out in the future. You'll also gain insight into the owner's leadership style. Some dentists avoid conflict out of fear, allowing small problems to fester into big ordeals. Other dentists lacking patience, communication skills or humility may practice an authoritarian approach to management. As you can see, red flags exist on each end of the spectrum.
When it comes to conflict, I look for three "C's": confidence, communication and consistency. Consistency is perhaps the most important of the three because leaders who fail to settle conflicts fairly and objectively (with each and every employee and incident) will lose credibility and respect in an instant. Occasional conflict will be inevitable, so look for a doctor who you believe has the skills to effectively navigate through the issue and return the focus to patient care.
2. How important is mentoring in your relationship with an associate?
There is a lot of learning that happens by virtue of showing up to work every day. However, if you're looking for additional guidance and mentoring, you'll need someone who's willing (and excited) to teach. Many owners will appreciate your openness to learning and genuinely want to tutor you in their practice style. I personally believe that mentorship is crucial, but some associates and owners thrive in a more laissez-faire relationship that affords more independence. If your interviewer simply wants a warm body that increases production and doesn't ask questions, do yourself a favor and head for the hills.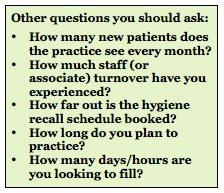 3. Tell me about your approach to patient care. Do you expect your associate to adopt your same clinical philosophy in full?
For example, will the owner expect you to swap out every amalgam in a patient's head for composite as standard protocol because she does? Will the owner expect you to take on every molar endo and surgical extraction because he does? Failure to discuss these questions can be a first-class ticket to a world of pain. We're talking potential ethical dilemmas, litigation and early tarnish to your newly minted professional reputation. We will all have moments when our ethics are tested, but you might not expect the first test to come before you even land a job.
Your patients trust that you're giving sound advice and making wise decisions. What claims are you willing to make? To what level of risk are you willing to subject your patient? Take time now to consider where you stand so you are not caught off guard. As Will Rogers put it, "It takes a lifetime to build a good reputation, but you can lose it in a minute." You can barter with benefits and negotiate wage…but there's no such thing as "meeting halfway" on ethics.
4. Will I be satisfied with what I have here and now?
This last question is actually for you, the associate. My friend and mentor, Dr. Eric Peterson, gave me some great advice that I now share with you. When it comes time to make a decision, do not commit to a scenario in which your happiness will be contingent on future promises. Things don't always go as planned and promises aren't always kept. Ask yourself, "If things were to stay exactly how they are right now, would I be happy?" If you can whole-heartedly answer "yes," then you can't lose.
"Perfect is the enemy of excellent'" is one of my favorite mantras, and it rings true for the art, science and business of dentistry. Don't go looking for a perfect opportunity…because your job search might never end. Instead, look for an excellent opportunity that's compatible with your ethics and goals, and feels good in your gut. Don't hesitate to ask a ton of questions—it's a simple way to get a happy and successful career started on the right foot.