Last Updated on June 26, 2022 by Laura Turner
Dr. Ahmed Hankir MBChB PGCert (Psychiatry) PGCert (Epidemiology) is a specialty trainee in psychiatry in the National Health Service (UK), an Associate Professor of Psychiatry with the Carrick Institute for Graduate Studies (USA), and a Senior Research Fellow for the Bedfordshire Centre for Mental Health Research in association with Cambridge University (UK).
He is also the author of The Wounded Healer, which has been described as an innovative method of teaching that blends the performing arts with psychiatry. The main aims of the Wounded Healer are to engage, enthuse, enthrall, and educate to challenge mental health related stigma and to encourage care seeking. Dr. Hankir has delivered The Wounded Healer to over 55,000 people in 13 countries worldwide. In recognition of the Wounded Healer project, Dr. Hankir was a finalist for the 2015 and 2017 Royal College of Psychiatrists Communicator of the Year Award.
Dr. Hankir received his MBChB from the University of Manchester (2011), and obtained a postgraduate certificate in epidemiology from Harvard Medical School (2016).
Dr. Hankir has been published in Frontiers in Neurology, European Psychiatry, BMJ Case Reports, Psychiatria Danubina, and The International Journal of Psychiatry in Medicine. He has also co-authored book chapters with the President of the World Psychiatry Association. Dr. Hankir is co-editing a textbook on Islamophobia and psychiatry with the former faith advisor to Barack Obama which will be published by Springer in 2018.
Dr. Hankir is the recipient of numerous prestigious awards, most notably the 2013 Royal College of Psychiatrists Foundation Doctor of the Year.
When did you first decide to become a physician? Why?
I always had an innate desire to help other people, a romantic longing to serve humanity. My father is a physician in Lebanon, a part of the world where doctors occupy a very respectable position in society. My father earned the soubriquet, 'Hakim el-shaab', which is Arabic for 'The People's Doctor', since he didn't accept money from the poor whenever they consulted him in his clinic, which is situated in Sidon, the capital of the south of Lebanon. My father treated, and continues to treat, many Syrian and Palestinian refugees, who were displaced due to conflict and have been rendered impoverished. My father is an honourable man, so I wanted to emulate him. There was always that pressure to follow in my father's footsteps, so I believe that was a factor that influenced my decision to study medicine. There were other factors as well. When I first arrived in the UK, I spoke to the head of the sixth form about getting into medical school. She laughed in my face and said it was too competitive. She made me feel like I was this immigrant with delusions of grandeur who would never amount to anything in life. I think that also fuelled my desire, to prove that she was wrong, that I was a young man with a vision and the ability to execute it.
I left my family when I was 17. That was back in Lebanon. I knew at that moment, with my mother crying inconsolably in Beirut International Airport, that I was making a big sacrifice. And the reason for that sacrifice all those years ago was to realize my dream of one day qualifying as a doctor. That moment in Beirut International Airport was a reaffirmation of my determination to become a doctor; why else would I leave everything I know and love behind? As I was born in Belfast, I was a British citizen, which conferred upon me the opportunity to study in the UK. It was an arduous and convoluted journey, but 11 years later I graduated from medical school.
However, without a doubt the person who emerged from medical school was not the same one who entered it. Ironically, medical school wounded me in ways that I never propounded fathomable.
How/why did you choose the medical school you attended?
I wasn't concerned about which medical school I would end up matriculating into. The goal was to qualify. Manchester is cosmopolitan. It's a progressive city. It was quite attractive, quite seductive. At the time, I thought London was a bit too big for me. That's why I put Manchester on my list. They interviewed me and made me an offer. In hindsight, I don't think I was quite ready for problem-based learning, and it wasn't very popular with fellow students either.
What surprised you the most about your medical studies?
With Manchester, it's a five-year program. One year I would take the responsibility to study, the other year I wouldn't. That might have reflected my own mental health, and I accept that I must take responsibility for the decisions I made. However, I felt—and continue to feel—that the medical school should also take responsibility for equipping us with the skills and knowledge to be competent and compassionate clinicians. I don't think we were assessed as much as we should have been. We would have maybe four or five exams in one year which, in my humble opinion, wasn't enough.
Furthermore, the student support system in Manchester was deeply flawed.I know that I learned lessons outside of medical school that could never be taught at university. Lessons about life in general and how cruel and kind people can be, including myself.
What information/advice do you wish you had known prior to beginning medical school?
The advice I would give to prospective medical students is to do more research, to learn more about what the medical school has to offer. Also, consider finances. If there is an opportunity to remain with family, you must seize this. If you were to ever, God forbid, develop psychological distress, you could draw comfort from their immediate presence. You have the rest of your life to be far removed from them once you qualify. Medical school places a tremendous strain on your financial situation, and it's tough enough as it is. I think a lot of people tend to underestimate how stressful medical school can be. These are all factors I'd advise medical students to take into consideration. Don't be seduced by a particular brand, by Cambridge or Oxford or Harvard or Stanford. You might find that seductive, but university is what you make of it. I'm of the opinion that it doesn't really matter where you qualify from. You don't want to be negotiating anything besides your studies. If you go into a different city or a different country, you have other factors like adjusting to a new culture, or having to work to make ends meet. Far be it from me to impose my opinion, but that would be my advice.
Why did you decide to specialize in psychiatry?
I didn't know much about psychiatry prior to entering medical school. Our perceptions are influenced by the portrayal of mental health in the media. There are, unfortunately, a lot of negative portrayals and stereotypes which perpetuate stigma. I wouldn't say I was an anti-psychiatrist, but I didn't always want to be a psychiatrist.
Then when I was in medical school, I woke up one morning to discover that Lebanon was bombed, and that hundreds of people were killed overnight, and I was overwhelmed. It was then that I discovered how utterly beholden we are to the mercy and the power of our minds. That definitely sparked an interest in psychiatry. I'm not the only one; a lot of people go through those experiences and they develop a fascination in mental health. Then I did a special study component at Cambridge University on the association between the artistic temperament and oscillations in mood. That got published, so getting that exposure and experience to academic psychiatry was very insightful and definitely played a role in my decision.
If you had to do it all over again, would you still specialize in psychiatry? Why or why not?
Because of my life experiences, yeah. In a way, I feel it's incumbent upon me. I'm in a unique position. They call people with first-hand experience of psychological distress experts by experience. Experts by experience have the power to reduce the stigma associated with mental health problems. We know this from looking at the data from a meta-analysis on studies that challenge public stigma in adults that was conducted by Professor Patrick Corrigan and colleagues in Chicago. Professor Corrigan concluded that the most effective way of reducing stigma was through social contact with someone who has first-hand experience of psychological distress. That puts me in a unique position, which is empowering. With power comes responsibility, but it's rewarding as well. If I had different life experiences, say an acute coronary syndrome, that might have influenced my decision specialize in cardiology, so I can't really speculate what would have happened if life were different for me.
Has being a psychiatrist met your expectations? Please explain.
My advice would be to embark on a path of discovery, maybe even self-discovery, rather than to set up expectations. Show a willingness to learn, to be curious, and inquisitive, and audacious. The more you put in, the more you get out. The remit is just so wide-ranging: you could go into biological or molecular psychiatry, you could have an interest in neuroscience, or the portrayal of mental health in films. Try to challenge whatever preconceptions you have, or whichever preconceptions there are of mental health. There are a lot of myths which need to be debunked.
Describe a typical day at work—walk me through a day in your shoes.
If I'm working in old age psychiatry, I have a clinic and see older people with memory problems. I try to gather as much information as possible from their loved ones and to do mental state examinations. I am privy to their stories, and we embark on the rollercoaster ride across the spectrum of human emotion. I spend my morning getting to know patients and formulating a management plan. Then there is teaching. I would teach medical students and take part in Balint group sessions with my peers, in which a group of doctors get together for an hour and talk about patients who were able to evoke some emotional reaction from us. It's very varied. I have academic interests as well, so whenever I get the time, I conduct some research. I'm helping to organize an international conference on mental health at Cambridge University, so it's quite time-consuming, but also very rewarding.
I've worked in various places. I did a six-month placement in a mental health ward in North Island in New Zealand. My clinical experience has predominantly been in Leeds, where the president of the Royal College of Psychiatrists Professor Wendy Burn is based. I have an academic post in Cape Canaveral in Florida, and I also have an academic position in Cambridge. There's a conference coming up in Sydney next month where I will be presenting. In October, I'm going to Berlin to present at the World Psychiatry Association World Congress. I'm very fortunate to work nationally and internationally. It's hard work, but it's very rewarding.
What do you like most about being a psychiatrist?
There is no health without mental health. Mental health influences how we feel, think, talk, and behave. It influences our motivation, memory, and modus operandi. People with mental illness often suffer terribly, so much so that it can end that which is most precious, human life itself. We know that every 40 seconds, someone, somewhere in the world dies by suicide, and suicide is the biggest killer in people under 35 in the UK. What could be more rewarding, what could be more challenging, what could be more thrilling than healing a wounded mind and a wounded heart, and rescuing someone from the depths of their own despair? I would encourage medical students to learn more about mental health.
What do you like least about being a psychiatrist?
There's a lot of administrative work. There's revalidation, there's portfolio. I understand why we need this: it's to promote patient safety, ensuring that you are functioning at the highest standard possible—you're dealing with human life here. So I appreciate that these measures need to be in place, but sometimes when you're having to compose a tottering pile of discharge summaries, you find yourself wanting to spend more time with patients. I don't think that's confined to psychiatry; it's also true of the other medical specialties.
In your position now, knowing what you do, what would you say to yourself back when you started your medical career?
I would say protect your heart and protect your mind to prevent burnout and emotional exhaustion. I would say be resourceful, be careful with the company you keep. Be careful who you trust as well. You might be drawn to a charismatic, eminent professor, but when it comes to making decisions about your career, I'd be careful about what other factors are influencing you.
When did you first get involved in mental health activism?
When I developed The Wounded Healer. The argument I'm making is "how can you educate an audience, if you're not engaging them?" So I use the power of the performing arts and storytelling to engage, enthuse, enthral, entertain, and educate people to challenge mental health stigma, and to encourage people who experience mental health issues to seek help. I've been fortunate enough to deliver the Wounded Healer to over 55,000 people in 13 countries in 5 continents worldwide. It's something I feel very passionate about. I'm determined, indignant, energised. There needs to be a parity of esteem between mental and physical health problems. We see this fundamental divide between the asthmatic lung and the manic mind, as if those who experience mental health problems do so out of their own making, and as such do not deserve the same kind of empathy. That is unacceptable. There are also these closures of mental health wards. If this was physical health, there would be outrage. That fuels me to reach out to as many people as possible, to medical students, to physicians, at conferences. I've lectured alongside Nobel Prize laureates, and at the largest medical student conference in Europe. It's very challenging, and I took some time out of my training to develop this program, but now we've received some funding to commission the production of The Wounded Healer film, which I'm very proud of.
What types of outreach/volunteer work do you do, if any?
Besides The Wounded Healer, I'm also interested in developing a program that challenges Islamophobia. There are heightened levels of Islamophobia at the moment. The demonization of Muslims by segments of the media, the immigration crisis, the rise of radicalization are all factors that conspire and collude to raised levels of Islamophobia. We know that there is an association between Islamophobia and psychological distress among Muslims. I'm in the process of rolling out a program that I was fortunate enough deliver as a keynote address in Orlando, following the horrific and heinous terror attack that took place there. I received a standing ovation from Trump and non-Trump supporters alike. I'm pleased with the progress we're making, but we want to continue to grow.
What do you like most about campaigning?
Winning the hearts and minds of the people you speak to.
What do you like least about campaigning?
The Wounded Healer is not going to elicit indifference. There are some people who love it, and I continue to receive invitations to deliver it. But some people loathe it. I have been at the receiving end of stigma from professors of psychiatry, which I think is outrageous and shocking. The other frustration is the issue of not receiving funding, but we keep on trying; we don't give up.
How do you balance work and your life outside of work?
I run every day; a healthy body is a healthy mind. Exercise is so important, something I personally started to take seriously four, five years ago. I take care of my daughter. I watch films whenever I can.
On average, how many hours a week do you work? How many hours of sleep do you get per night? How many weeks of vacation do you take annually?
I'm a dad now, so I've got my little princess who I take care of. Some describe me as a workaholic. I'm a bit reticent about how much rest I get. I want to be an agent of social change. If you want to initiate a cultural revolution, you have to make some sacrifices, but not at the expense of your own mental health. That would be ironic, wouldn't it? But you have to work hard. I can't quantify my schedule for you. I need to have the strength to say no, because I receive a lot of invitations to collaborate worldwide. Most of them I accept, to be honest, and some I start myself. There are fantastic opportunities. Mental health is in vogue at the moment, so we need to seize these opportunities.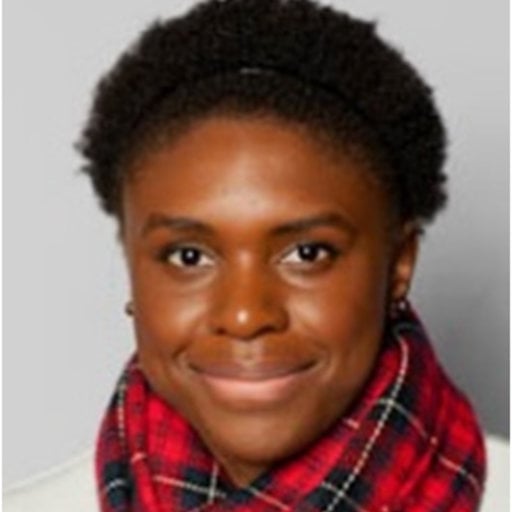 Gloria Onwuneme is a graduate of the University of Nottingham School of Medicine.