Last Updated on June 27, 2022 by Laura Turner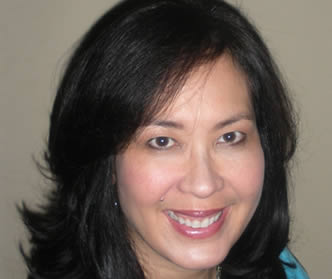 Felicia Sison Conlan attended University of California, Los Angeles, where she studied political science and urban studies with emphasis in public administration. Her career began as a reporter/writer/producer/assignment editor for CBS-affiliate KCAL-TV in Los Angeles, where she was nominated for an Emmy for her writing on environmental stories, as well as a Golden Mike journalism award. During her media career, she also served as guest lecturer at UCLA regarding the television industry.
Felicia earned her master's degree in science from California State University, Northridge, where she completed graduate coursework in communication disorders and sciences, speech language pathology. During that time, she provided assessment and treatment services for children and adults with a variety of communication disorders, including dysarthria, apraxia, articulation, phonological and language delay; those who were deaf and hard of hearing; and those with voice disorders. She also earned a Communication Disorders & Sciences Clinical Services Rehabilitation Credential from the Language Speech and Hearing Advisory Committee.
Today, Felicia works for the Los Angeles Unified School District as a speech-language pathologist, where she screens, assesses and treats students with speech and language disabilities and disorders from preschool through high school; provides staff development, grade level/teacher in-service, parent training, and speech improvement classes; and collaborates with school administrators, Special Education service providers, teachers and parents. She also serves as president of the CSUN Communication Disorders and Sciences Alumni Association, Alum Chum Mentor-Mentee Program.
When did you first decide to become a speech-language pathologist? Why?
As a former television producer and reporter, I had never heard of speech-language pathology until a dentist friend mentioned to me about a client of hers who is an SLP. She described the job as a combination of communication and teaching. Curious about the profession, I attended an informational meeting at California State University, Northridge, which has one of the top programs in the nation. I ended up talking to various speech-language pathologists to find out more. After taking a few classes, I was hooked. The American Speech-Language-Hearing Association has a website for anyone interested in finding out information about the profession (asha.org).
How/why did you choose the school you went to?
I decided to apply to CSUN due to its excellent reputation in the Department of Communication Disorders and Sciences (CDS) and the training program for speech-language pathology. I graduated from UCLA with a degree in political science and urban studies, so I had to take prerequisite courses in order to apply for the master's program. I live close enough to campus, so I did not need to apply to their CDS online distance learning program. I attended most classes on campus and enjoyed being able to interact with other students and the faculty. CSUN gave me the knowledge, training, and friends I needed to succeed as an SLP. Having the support and encouragement from my family and friends made all the difference in the world.
What surprised you the most about your speech-language pathology studies?
I was amazed about the amount of material we had to cover and learn. Speech-language pathology has such a wide scope of practice, so we had to take classes in many subjects such as aphasia, apraxia, dysarthria, neuroanatomy, neurophysiology, dysphagia, audiology, structural-organic disorders, phonetics, speech and language disorders, and early childhood development.My physician father was impressed that I could tell him about the epiglottis and discuss the cranial nerves. Many people don't realize that we work in schools, hospitals, rehabilitation care centers, and in private practice. Some work in the university setting, educating and training future SLPs. Among the areas we work on are articulation, language, stuttering, voice, and swallowing disorders. Some of my amazing friends choose to work in more than one setting.
If you had it to do all over again, would you still become a speech-language pathologist? (Why or why not? What would you have done instead?)
Absolutely! Money Magazine recently featured an article on the best jobs in America. Speech-language pathologists ranked number one for "Best Jobs for Working Parents" and ranked number fourteen for "Best Jobs for Saving the World."
Has being a speech-language pathologist met your expectations? Why?
Being an SLP has more than met my expectations. I wish I had stumbled into this profession sooner. However, everything I have learned in the past as a journalist, bilingual substitute teacher (Spanish), and as a parent have helped me become a better, more compassionate SLP.
What do you like most about being a speech-language pathologist?
I really love my career. There is something magical that happens when you help a child or adult communicate their needs, wants and thoughts. Communication is a basic human need. It's like helping them unlock a difficult puzzle. You can see it in their eyes and the way it boosts their confidence. It's a truly rewarding profession. My SLP colleagues and friends are all caring, creative, empathetic and bright people. We make a difference in the lives of children and adults and their families on a daily basis.
What do you like least about being a speech-language pathologist?
I dislike the paperwork, but documentation is an important part of our job.
What was it like finding a job in your chosen career field? What were your options and why did you decide what you did?
I was pleasantly surprised that it was not difficult at all finding a job. The school district representatives came to interview me while I was doing my student teaching. At CSUN they hold a boot camp every summer so we can talk to various employers and inquire about job opportunities. I get emails on a weekly basis with job opportunities for SLPs. It's amazing how much in demand we are.
Do you work with mid-level providers, and if so, what kind(s)? If not, who do you work with?
At the school setting, SLPs work collaboratively with various service providers such as occupational therapists, adapted PE specialists, resource specialist program teachers, psychologists, special education teachers, school administrators, and teachers. We also work with parents to provide services for their children with delayed skills or disabilities who require services as outlined in their Individualized Education Program.
On average: How many hours a week do you work?
I work 40 hours a week, but sometimes I need to work extra hours to get reports done and prepare for therapy sessions.
How many hours do you sleep per night?
I sleep six to eight hours per night.
How many weeks of vacation do you take?
We have the same schedule as the school children we serve. I work with kids from preschool through high school. I am off on holidays and winter and summer vacations, so I am able to spend the time with my family and re-energize. I enjoy and appreciate the flexibility.
Are you satisfied with your income?
I was a stay home mom right before I began my career as an SLP, so I am making more money than before. I have a job with great benefits, so I feel very lucky, but with children going to college, I can always use more income.
If you took out educational loans, is/was paying them back a financial strain?
I am paying back student loans gradually. Scholarships, a part-time job and student loans helped me pay for my college education.
In your position now, knowing what you do – what would you say to yourself 10 years ago?
Your experiences as a parent will help you to become a caring and understanding speech-language pathologist. Enjoy your time and milestones with your children because they grow up fast. You will find mentors along the way willing to help you grow personally and professionally and will guide you along your career path.
What information/advice do you wish you had known when you were beginning your speech-language pathology studies?
Stay organized and summarize notes from each class each semester in preparation for the Comprehensive and Praxis exams. It's overwhelming to study all the information at once when you get toward the end of graduate studies. Study groups are really helpful.
I helped initiate an Alum Chum Mentor-Mentee program at CSUN, patterned after the American Speech-Language Hearing Association (ASHA) S.T.E.P Mentoring program, to help students connect with SLPs working in the field. We have also helped SLPs who want to return to work after raising a family to reconnect with colleagues. Networking is an important part of succeeding in any career field.
From your perspective, what is the biggest problem in healthcare today?
I requested the input of various SLP colleagues, including those who work in medical settings, to answer this question about problems in the healthcare industry.
For SLPs, the healthcare landscape impacts eligibility, reimbursement, and functional outcomes of patients. Clients in acute care, rehabilitation, skilled nursing facilities, and outpatient clinics have various requirements based on their setting. Battles with third party payers involve their limiting services for adults and children to evaluation and a few visits. Habilitative services need to be included as part of essential health benefits and not just be related to the impact of a child's educational performance in schools. Think about the "A" student who has a lisp and has difficulty correctly producing the R sound, which affects his ability to be understood by his teachers and peers. Medicare also limits the amount of treatments and lacks options for long-term rehabilitation.
Additionally, the process of obtaining authorization for services and any additional treatment is a long, time-consuming, and extremely frustrating process. SLPs are left waiting and waiting while the patient could be in therapy making progress. Due to reimbursement issues, stroke patients are often not seen with the frequency that would be the most optimal for their recovery and functional progress.
Another thing to consider is the growing number of autism cases appearing on our caseloads. Where should the burden of financial responsibility lie with regard to long term therapy for autism and how will it affect healthcare costs? In a nutshell, all these problems impact how clinicians deliver services, the necessary outcomes for patients, and reimbursement of services. In the end, it is the patient that is affected most.
Where do you see speech-language pathology in 10 years?
I hope the general public will gain knowledge and appreciation for the speech-language pathology profession. The award-winning movie The King's Speech thrust the speech-language pathology profession in the limelight, as did the rehabilitation efforts of Senator Gabrielle Giffords. However, speech-language pathology is a noble profession that needs to be widely recognized to attract qualified applicants to fill the world-wide demand for services.
Do you have a family, and if so, do you have enough time to spend with them?
My job allows me the flexibility to enjoy my family. Most of the time, I am able to attend my sons' baseball games and go to parent meetings and functions. I have a wonderful husband and terrific sons, so anytime I can spend with them is precious.
What types of outreach/volunteer work do you do, if any?
As immigrants to this country, my parents always stressed the importance of giving back to the community. This year, I was honored to receive a Volunteer Service Award from the CSUN Alumni Association. I am President of the CSUN Communication Disorders and Sciences Alumni Association, which keeps me very busy as a volunteer leader. We organize programs throughout the year for the speech-language pathologist and audiologist alumni to include professional development, mentoring, and networking. I am also an alumnae member of Zeta Tau Alpha Sorority and participate in fundraising efforts for our philanthropy, Susan G. Komen for the Cure, the world's largest breast cancer organization. I have also served as emcee for various events for the Filipino-American community.
How do you spend your free time? Any hobbies?
I spend time with family and friends, go on dates with my husband, play tennis, and am part of a book club. I take time for prayerful meditation and I am grateful for each new day. I think it's important to make lasting memories with loved ones.
Do you have any final piece of advice for students interested in pursuing SLP as a career?
When I first considered the idea of becoming an SLP, I did my research and asked many questions.
Additionally, I advise talking to SLPs in various settings and inquire what they like best about their job and why they chose a career in speech-language pathology. Attend an informational meeting at the university to find out about the prerequisite and graduate courses to get an idea about the academic challenges and time commitment needed as well as the costs of graduate studies. Consider both on-campus and distance learning online programs. If possible, observe speech therapy sessions to see if the work and the environment appeals to you.
This job requires creativity, understanding, compassion, and the ability to motivate and work collaboratively with others. Of course speaking more than one language is a real bonus. Since you have the chance and choice to get a higher education, dive into a career that you can feel passionate about; something that feeds your need to make a difference in this world. Trust your instincts and go for it!