Last Updated on June 27, 2022 by Laura Turner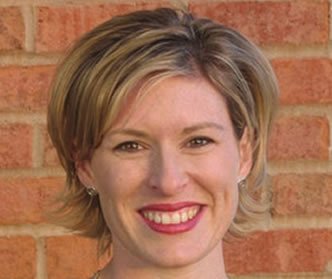 Secili DeStefano, DPT, OCS, received her master's and doctorate degrees in physical therapy from Marymount University. Before she became a PT, DeStefano was a student athletic trainer at University of Texas, where she put to use her own enthusiasm for and experience running marathons, weight lifting, dancing, swimming, gymnastics and cheerleading.
At Bodies in Motion Physical Therapy in Reston, VA, DeStefano has been providing care to outpatient orthopedic patients since 2001, focusing on rehabilitating the biomechanics of the ribs, spine, hips and pelvis, as well as preventing and creating solutions for complex and chronic musculoskeletal pain. She is certified in trigger point dry needling (TDN) or Intramuscular Manual Therapy (IMT), can perform ACL injury prevention programs such as sport metrics for female athletes, and is a Certified Ergonomics Assessment Specialist.
Among her duties at Bodies in Motion Physical Therapy, DeStefano provides care to prenatal and postpartum women with low back, hip and pelvic pain; assesses and fabricates custom orthotics; establishes and manages pediatric orthopedic patients; evaluates and consults area businesses on worksite ergonomics; and provides health, wellness, consulting and screening services to area high school athletic programs, travel teams, and specialty programs including high level football players, dancers, swimmers and soccer players.
Currently, DeStefano is the Virginia Physical Therapy Association vice president and delegate to the American Physical Therapy Association House of Delegates. A Certified Direct Access Practitioner, she has received the distinction of Certified Orthopedic Specialist and Emerging Leader from the APTA. DeStefano is involved in research regarding fibromyalgia and hyper mobility, and she speaks to area support groups on topics such as chronic fatigue syndrome and fibromyalgia. In addition, she has served on the Arthritis Foundation Loudoun County Walk board of directors, and she currently volunteers with the Anything That Moves You Forward Race.
When did you first decide to become a PT? Why?
I decided to become a PT in high school. My dad was my inspiration. During his research on possible career paths for his teen daughter, he came across physical therapy and thought it would be a great fit for me. Additionally, he is a Purple Heart recipient and would be in need of PT in the future.
How/why did you choose the PT school you went to?
My husband and I were hoping to remain in the northeast because of his job. When I was accepted to Marymount University (MU), we were thrilled. APTA, the PT professional association, is in Alexandria. With the professional association so close, MU provided quality education with the right location for my husband and I.
What surprised you the most about your PT studies?
How thorough it was. There were many late Friday nights and early Saturday mornings spent at the cadaver lab or studying for tests. There were no nerves or muscles or brain matter untouched in the first year. Then, in the following two years, we added application and clinical reasoning to the anatomy, neurology and physiology.
If you had it to do all over again, would you still become a PT? (Why or why not? What would you have done instead?)
Absolutely, it is a very rewarding and fun job! There is a reason PT always ranks high in job satisfaction. Every day, I am able to meet new interesting people and make a lasting difference in their lives by helping them move forward.
Has being a PT met your expectations? Why?
Yes, exceeded in fact, because as with anything in life, it is what you make it. It is excellent being a PT. And according to Ronnie Oldham, that is the "result of caring more than others think is wise, risking more than others think is safe, dreaming more than others think is practical and expecting more than others think is possible."
What do you like most about being a PT?
a) Patient outcomes. Patients get better! You see results even in the challenging cases. This leads to personal and job satisfaction.
b) The multiple environments to choose from. I can be a PT in acute care, rehabilitation, outpatient orthopedics, wellness and prevention or sub acute. The environment choices are endless.
c) The people. As a PT, I have many options. I can treat people with neurological, musculoskeletal, or women's health impairments. The opportunities to meet new people and make a difference in their lives are never-ending. My patients come to see me because they want to improve their quality of life, decrease or alleviate pain, improve their performance, move forward with exercise, prevent disability or restore function. They are enthusiastic and are an active participant in their care. It's invigorating to assist patients in meeting their goals. Also the people who choose PT are great to work with as colleagues. I have many mentors who have truly blessed my practice and my life and I hope I have touched others in the same way.
d) Thriving in this difficult economy. The demand for physical therapists continues even though we are in an economic downturn. Americans, primarily baby boomers, are aging and living longer more active lives than ever before. Many people develop chronic and debilitating impairments that physical therapy can assist with.
What do you like least about being a PT?
I truly can't think of anything I dislike about PT.
I am interested in how our healthcare system will be changing over the next few years to better serve the population described above. I am cautiously optimistic that PT will have a vital role in the future of our healthcare system and patient care.
How did you decide how to practice (i.e. private practice, group, hospital, etc.)?
It was initially between outpatient orthopedics and inpatient rehabilitation. However, by the time I graduated, I knew what I wanted. I called one of my mentors, an adjunct professor at Marymount, and told him I wanted to work in his department. He worked in a large healthcare system in their outpatient orthopedic department. I respected his work ethic and patient focused mindset. I knew I wanted to work with his staff.
Describe a typical day at work.
Currently, I am a clinical instructor for a PT student, so we come in a little early to prepare for the day together. We look over my charts of patients for the day, prepare and discuss treatment and best practice for each patient, and prepare any preliminary paperwork or dictations. Then, we see one patient every half hour to one hour depending on what the patient needs are. We treat all the patients one on one, we don't utilize any support personnel at my clinic. Then, we do an end of day wrap up discussion followed by any follow up paperwork. It sounds pretty straight forward, but the important part is the critical thinking, problem solving and research that go on behind the scenes for each patient as I see a lot of complicated, complex chronic pain patients.
Do you work with mid-level providers, and if so, what kind(s)?
No.
On average: How many hours a week do you work?
I am currently part time as I take Fridays off to be my two children, so I work about 30 hours per week Monday through Thursday.
How many hours do you sleep per night?
Approximately eight.
How many weeks of vacation do you take?
Two.
Are you satisfied with your income?
Is anyone ever truly "satisfied" with their income? The question itself begs the question, "could there be more income to be had?" Overall, I believe that I am compensated fairly, however, please don't tell my clinic; otherwise they may not honor my request for a raise during my next annual review. Just kidding. I think PTs could stand to make $20,000 or so more for full-time equivalent secondary to the cost of loans coming out of school.
If you took out educational loans, is/was paying them back a financial strain?
Yes, but worth every minute…penny.
In your position now, knowing what you do – what would you say to yourself 10 years ago?
I would probably say to myself what I say to all my students:
a) If you know it all you should quit. You are doing your patients a disservice if you think you know it all and thus miss something in their care. PTs are experts at differential diagnosis, so the only thing that can get in your way of successfully diagnosing and treating is you.
b) Take care of your brain, it is the most valuable tool you have.
c) Take care of your hands and body through practicing with good body mechanics and utilizing available tools such as dry needling. Your hands and body parts are the second most valuable tools you have.
d) Enjoy practicing every day, before you know it you will have been practicing for 10 years and be wondering where the time went while you were having so much fun.
What information/advice do you wish you had known when you were beginning PT studies?
I feel like I have been a patient advocate and an informed participant in my profession. I'm not sure if knowing anything else would have made a change. I am happy.
From your perspective, what is the biggest problem in healthcare today?
a) The rising cost of healthcare, not just leading to uninsured, but for the insured as well.
b) Access to appropriate services and care. It is difficult for patients to access the care and services they need and even if they eventually get the correct provider, it was not in a timely fashion.
c) Lack of access to preventative and ongoing care for chronic diseases and impairments.
d) Daunting documentation. Hours and hours are spent on daunting documentation instead of on critical thinking or researching cures, treatments and diagnostics.
Where do you see PT in 10 years?
a) I see PTs as autonomous practitioners, working collaboratively, but utilizing independent, professional judgment based on clinical reasoning.
b) Every consumer will have the right to directly access a physical therapist to improve impairments, movement, health and/or function.
What types of outreach/volunteer work do you do, if any?
I volunteer at area high schools to assist with activities such as performing annual physicals. I have volunteered locally at various community events such as the Loudoun County Arthritis Walk. I have presented locally at venues such as the Fairfax County Employee Wellness Day. I support local charities such as Becky's Fund for Domestic Violence. I participate in state run events such as the Anything That Moves You Forward 5K, we in Northern Virginia donate to the Parkinson's Foundation of the National Capital Area. I have also taken my passion overseas to visit PTs in Brazil to learn more about their healthcare system and what PT looks like there.
Do you have family? If so, do you have enough time to spend with them?
Yes. I have a husband and two children. I spend most of my "free time" enjoying my family. PT, as a profession, I think, easily lends itself to lots of good quality family time.
Do you have any final piece of advice for students considering PT as a career?
I would suggest that high school and early college students:
a) Volunteer in a variety of different PT settings including prevention and wellness, outpatient and inpatient.
b) Have a back up plan in place. It is difficult to get accepted to a PT program as the number of applications is high right now.
c) Find ways to differentiate yourself. Get involved with PT Clubs in school. Take extra anatomy classes. Travel overseas to assist with aide programs post natural disaster. Do community service with a free clinic or charity.
Juliet Farmer is a writer with over 19 years of experience in various industries and a contributor to numerous consumer and trade publications and websites.