Last Updated on March 18, 2022 by SDN Staff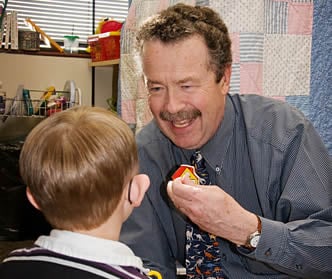 G. Robert Buckendorf, Ph.D., SLP, is the owner of Buckendorf Associates LLC (http://www.bobbuckendorf.com) in Tigard, Oregon, where he and his team provide services to children with a wide variety of speech and language disabilities. Dr. Buckendorf earned his master's degree in speech pathology from Idaho State University, then went on to earn his Ph.D. in communication disorders from Wichita State University. He then served a year of clinical fellowship at the Child Development Center in Pocatello, Idaho.
In addition to the private practice Dr. Buckendorf started in 2006, he is also a clinical assistant professor of pediatrics at Oregon Health and Sciences University, as well as an adjunct assistant professor at Portland State University. Previously, he was both program director at the Child Development and Rehabilitation Center (CDRC) in the department of speech pathology and audiology and discipline director of communication disorders at CDRC. Dr. Buckendorf's involvement with the Oregon Speech and Hearing Association includes prior appointments as treasurer, president-elect, president, and past-president, and he is also an active member of the American Speech and Hearing Association and is licensed by the Oregon Board of Examiners in speech pathology and audiology.
When did you first decide to become a speech-language pathologist? Why?
I decided to become a speech-language pathologist by referral. A family friend who knew me well and could not attend the program himself suggested that I might be interested in the field. I'd never heard of this career until a friend suggested it. I had a bachelor's degree in zoology but decided speech language pathology was worth pursuing.
How/why did you choose the school you went to?
My decision was based on proximity. Since I am a native of Idaho, I decided to stay in the state and I went to Idaho State University. At the time, Idaho State University offered the only master's program in speech pathology in our state.
What surprised you the most about your speech-language pathology studies?
Throughout my speech language pathology studies, I was surprised by how broad the discipline is, the variety of disabilities in which communication is a primary impairment, and how interesting it was to learn about human development and communication in the coursework.
If you had it to do all over again, would you still become a speech-language pathologist? (Why or why not? What would you have done instead?)
I would absolutely still become a speech-language pathologist. I tell our students that this is the best field they could ever choose. We work with children and their families, help bring hope to families whose children have communication impairments, and spend a great deal of one-on-one and small group time with a variety of children.
How has your career evolved over the years?
My educational efforts have primarily centered around mentoring and clinical teaching of students at all educational levels. I have been in private practice for 26 years and was full-time faculty at Oregon Health and Sciences University (OHSU) for seven years and have had a variety of students observing and working in those sites; anywhere from high school students who were in health career programs, to undergraduate students who were seeking experience or career direction, to graduate students and practicing professionals who were seeking clinical tips and clinical supervision.
At OHSU, I continued to serve as a mentor and teacher to students and professionals, not only in our discipline but also in the other disciplines represented through the CDRC clinics, including developmental pediatrics, occupational and physical therapies, psychology, and social work. I also developed a series of Saturday workshops where parents, students, and professionals could come and receive direct teaching on child-directed interventions for children with autism.
Has being a speech-language pathologist met your expectations? Why?
Yes, being a speech pathologist has met my expectations. It's interesting, the field is rapidly expanding its knowledge base, and we are an important part of an overall treatment program for children and adults with disabilities.
What do you like most about being a speech-language pathologist?
Communication is critical in this field as in life, and we have the privilege of helping children and adults who have communication issues learn to engage and converse with others.
What do you like least about being a speech-language pathologist?
As with any job, the day-to-day details/tasks of report writing, scheduling, and billing are cumbersome to manage at times.
What is it like finding a job in your chosen career field?
I have been in the field for 35 years and have seen the cycle of employment opportunities change several times. Currently, there are many jobs for people in our field, especially for those providers with experience.
Do you work with mid-level providers, and if so, what kind(s)? If not, who do you work with?
Most of our referrals come from physicians, word-of-mouth, and various state programs. We work frequently with other professionals such as psychologists, occupational therapists, and developmental pediatricians.
On average: How many hours a week do you work?
As a private practice business owner, I work about 50 hours a week.
How many hours do you sleep per night?
I sleep seven to eight hours per night.
How many weeks of vacation do you take each year?
We take two or three weeks of vacation a year, plus I spend a fair amount of time volunteering/lecturing overseas in various areas.
Are you satisfied with your income?
I am very satisfied with my income.
If you took out educational loans, is/was paying them back a financial strain?
I did take out loans, and while paying them back was not necessarily a strain, it did take several years before I was able to pay those loans back.
In your position now, knowing what you do – what would you say to yourself 10 years ago?
I'm not sure I would change anything—I was on the right course and still am. In the past 10 years, I've worked at Oregon Health and Sciences University and in private practice, both of which have been gratifying opportunities.
What information/advice do you wish you had known when you were beginning your speech-language pathology studies?
I wish I had realized that experience takes time, of course. I also wish I had recognized the value of being mentored by others (even in other disciplines) who have/had years of experience in working with children. I would have sought out opportunities to work with and get input from older, more experienced clinicians. It also would have been very important in hindsight to realize that families know their children best and that the family interview is critical to understanding the child's disability.
From your perspective, what is the biggest problem in healthcare today?
Healthcare is way too expensive for consumers/patients to afford.
Where do you see speech-language pathology in 10 years?
Ten years from now, communication will continue to be a very important aspect of treating children with disabilities, and so I would assume that the job prospects in this field will continue to be strong.
Do you have any family, and if so, do you have enough time to spend with them?
I do have a family. My wife is a receptionist in our office, and my son and his wife are both clinicians in our office, so I get to see with and work with these family members daily. We have other children and grandchildren that we get to visit frequently as well.
What types of outreach/volunteer work do you do, if any?
I frequently lecture and see children overseas, teach a variety of classes, and mentor students and others. Overseas trips have included Cuba, where a team sponsored by Caring Partners International visited 11 health facilities to lecture, observe, note needs of each facility, and take gifts and supplies for each of the facilities visited; Saudi Arabia, where a team sponsored by an educational organization and the Saudi Autism Society offered lectures to an audience of clinicians, physicians, parents, and teachers in Riyadh, as well as worked with the staff and a number of children at an autism school in Riyadh; and Nairobi, Kenya, where a team led a conference at Gertrudes' Children's Hospital including lectures on autism diagnosis and treatments, cerebral palsy, working with families, rickets, hearing assessment and working with children in their schools and local communities.
How do you spend your free time? Any hobbies?
In my free time, I read, garden, keep up with the literature, and prepare lectures. I also enjoy travel opportunities with my wife of 40 years.
Do you have any final piece of advice for students interested in pursuing SLP as a career?
While not as lucrative as many other medical career options, speech-language pathology provides a satisfying mix of academic rigor, personal independence, and significance
Juliet Farmer is a writer with over 19 years of experience in various industries and a contributor to numerous consumer and trade publications and websites.