Last Updated on June 26, 2022 by Laura Turner
Maxine Mackintosh (BSc MSc) is a PhD student in data science at University College London, exploring data science as a new approach to dementia research. She is also cofounder of One HealthTech (previously HealthTech Women), a network of 11,000 that supports and promotes women and other underrepresented groups in health tech and innovation in the UK.

She is involved in a number of side projects across Big Pharma, public sector, third sector and other communities and initiatives, such as the Roche, the British Computer Society, Alzheimer's Society and the World Economic Forum.

Ms. Mackintosh obtained her Bachelor of Science degree in Biomedical Sciences with a focus on neuroscience and pharmacology at University College London (2011-2014), before receiving a Master of Science (MSc) from the London School of Economics and Political Science (2014-2015) in health economics and financing, where she carried out research for her thesis on the role of Academic Health Science Networks in health innovation.

When did you first decide to specialize in data science? Why?
I was sort of the classic portfolio academic. I did an undergraduate degree in neuroscience and pharmacology. I then did a Master's in health economics, because a) I hated the lab, b) I was surrounded in the lab by people who actually wanted to be medical doctors, so none of them wanted to be there, and c) though I was interested in all the research that we were doing, I wanted to know what steps it took to get that research into a structure, a molecule, a product, a service that actually saves people's lives.
I was interested in what the rules and barriers around that journey were.
During my Master's, we were coming up with lots of policy solutions to the world's biggest health challenges, and–I guess because I don't have a background in policy–I was finding the solutions a bit fluffy. So I thought, if the policy solutions aren't very robust, what's the tech world providing? So I got very into the world of health technology, data, etc. I started to investigate and get involved in the London digital health scene during that Master's.
I started going to lots of meet-ups and conferences, had coffees with people, and then that got me into understanding the importance of what Big Data is doing. On the back of that, I thought: How can I merge neuroscience macro-modelling with the idea of solving new health challenges using data? So I started doing this data science PhD.

How/why did you choose the doctorate program you attended?
A Facebook ad, based on FindMyPhD.com cookies, asked 'Does this PhD look good?', and I thought: Yeah, looks really good!

What surprised you the most about the doctorate program?
It's a three-year program; I'm currently halfway through. Some PhD students have training in the first year and then three years of research. My PhD is basically three years of jumping straight in.
The thing about PhDs is that no one PhD is the same. It's a very personal journey, it's very dependent on who your supervisor is. The world of data science is very interdisciplinary, so the institute has clinicians, statisticians, epidemiologists, mathematicians, computer scientists. Everyone is coming at it from different angles, everyone meets different training requirements.
So the surprising thing is that data science is so interdisciplinary it makes it difficult to work out what skills you need to learn.

If you had it to do all over again, would you still choose your PhD? (Why or why not? What would you have done instead?)
I think so, for three main reasons. For one, we're not solving dementia using traditional techniques. The Petri dish method is not yielding new drugs; we have to think about how to look at this in a completely different way.
Secondly: there's something to say about doing work in two politically favorable environments. Big Data and dementia are very sexy, hot topics. That means that when you talk to your colleagues and the outside world about it, everyone is interested.
Thirdly: because it's such a cross-cutting field, data science is challenging the way we define diseases. It is challenging standard approaches. It allows you to be very creative. As part of my PhD, I'm also coming up with a new framework by which we measure and understand cognition. So I think by having a go at these two things, i.e. Big Data and dementia, it probably allows you to be much more creative than if you were doing, say, a lab-based PhD.

What led you into setting up One HealthTech?
I started about a month before I actually started the PhD. So about two years ago, I went out to the Silicon Valley, to 'drink the Kool-Aid', see what all the hype is about. While there, I met the founders of an organization called HealthTech Women, which was basically putting on events, putting interesting women up on stage, discussing the cool stuff in health technology. There's tons of women in health care, but very few women in the health technology and innovation space. So 1.5 years ago, I decided to set up a U.K. chapter as part of the same organization. The founders provided personal support in some respects and were on hand to help with teething issues, so we struggled on together as an international volunteer-led organization. That became a problem, because we grew very, very quickly. In the UK, we'd signed up 11,000 members in 1.5 years. As a result, the resources and the support in the US were not sufficient for us so we had to split off – but we are still unified by the same mission!

Has being in the field of data science met your expectations? Why?
I'm very much on the boundary between the two disciplines of data science and dementia; as a result, I wouldn't say there's much of a field yet.
There are many researchers out there looking at dementia from different angles, but it's still a pretty small, tight-knit community in this cross-over.
It makes it difficult, because you don't know whether your tribe is people who are using the same methods, or those who are trying to address dementia from weird angles. It's a bit of a no man's land at the moment, because there aren't that many people working on the problem by using these massive datasets of medical records.
However, a PhD is meant to be something novel, so I wanted to be in a real no man's land of work. As for job prospects, data science is the sexiest job of 2016, I think. Everyone wants to be a data scientist, even though that doesn't really mean very much, in the sense that it's such a huge field. I could technically be a data scientist, but the job roles wouldn't necessarily apply to me because I haven't learnt a particular programming language for example. But the PhD has certainly given me the foundation and the building blocks I need to go into very data-driven roles.

What do you like most about being in academia? Explain.
What I like most is that I'm getting paid to read and think and be intellectual. It's a very freeing, chilled out, structureless lifestyle which is great.

What do you like least about being in academia? Explain.
What I don't like is that a lot of the research being done doesn't have a real-world impact. Some researchers don't ask themselves what's going to change as a result of their research. Today, all the funding bodies incentivize researchers to think about the impact of their research, but I still think that a lot of research is done, and fundamentally nothing changes. That isn't necessarily the fault of the academics; it could be down to a fault in the translational pathway. But starting by asking the right question is an important place to begin.
There's also a big inefficiency in the consolidation and harmonization of the way you do research. In most research, you do a systematic review, you work out where the gap is, then you do the analysis. Time and time again, however, you find people doing very similar work, using their machines ineffectively, wasting time and resources. A lot more could be done to centralize research efforts. Furthermore, some research is driven by inappropriate research incentives. Everyone is working to get published in Cell, Nature, The Lancet etc. It would be good if people were incentivized to do research that would really change their field in the real world. I know that can't apply to all research, but the ivory tower of academia needs to stop being so ivory.
I don't think the culture in academia is particularly innovative. It's very hierarchical and it can be quite constraining. If you are someone who has a big personality and wears bright colors, you won't necessarily fit the mold of a reserved, drab academic very well. Changing perceptions is good, if not a little daunting. I would like to see the gap between public industry and academia getting much, much tighter, especially for something like health and data where all of our research is driven by what are effectively public donations of data. I think we need to work a lot harder in academia, specifically in data science, to make sure that the public really knows what we're doing and how we're using their data.

Describe a typical research day—walk readers through a day in your shoes.
I would talk in terms of a research week. Because I have two full-time jobs, I work 24/7. So I spend a total of about two days a week working on One HealthTech. That's often an afternoon here, or a couple of calls during the day. Then the five days a week are spent doing my PhD. I get into the lab at 8am. Then I might go away for a couple of hours and do a few meetings, then I come back home at 9 or 10. So it's very broken up in that respect, keeps me alert and fresh. When I'm in the lab, my actual job involves reading papers and writing code. I spend 90% of my PhD time writing lines in R; it's weirdly therapeutic when your analyses work and your code runs smoothly.

Describe a day engaging with One HealthTech —walk readers through a day in your shoes.
We have a team of about fifteen people, two of whom are full-time and paid. The rest are volunteers around the country.
So the focus of the moment has very much been on keeping our head down and raising money.
The job is a combination of meeting new partners and sponsors, meeting interesting entrepreneurs. At the moment, there's a lot of proposal writing and strategy building, along with working with a new director. The work is very broad and diverse, and involves meeting new people, along with strengthening the infrastructure of the network.
Part of why the network has been so successful is that it's very open, very inclusive and very good fun. Someone who fed back to us actually said: "The reason why I think you guys are one of the best networks is that it's so ego-free". We try to set a really open, friendly tone: don't take yourself too seriously. We encourage laughing, smiling, being honest, being authentic. Just letting your guard down and being yourself is probably the best way of making real human connections; once those are made, you're able to do a lot more things. I guess we encourage everyone, however weird or normal, to get involved and share the full spectrum of your personality.
In addition to that, we do lots of activities, from mentor-matching to round tables, profiles on people, but we are always trying to show personality as much as possible.

What do you like most about running a health-tech network? Explain.
Every day, I get to meet the most incredible people. In running a network, I create an enabling environment, encouraging people who are actually doing incredible things to inspire others. Amazing entrepreneurs, investors and scientists get to communicate with other people. Hopefully, something sparks from that. It's very energizing; it's just the most exciting thing, to spend your time trying to connect people.

What do you like least about running a health-tech network? Explain.
What I like least is that people think that because you run a network, you are therefore the fountain of knowledge on who's who. You also become the first port of call when people think about the network. I find that quite difficult to manage because there's a huge volume of communication that comes to me. By default, running the network means I know a wide range of people, so a lot of my job involves redirecting people to the most suitable person. It's very labor-intensive and it's not sustainable, so I'm trying to find ways to make sure that my personal mental Rolodex is not a bottleneck.

On average: How many hours a week do you work? How many hours do you sleep per night? How many weeks of vacation do you take?
My day runs from 6am to 11pm every day. Every other day, I'll see a friend for dinner or go to the gym in the morning, but I'm pretty much on all the time. Every now and then, I do take a day off. It's not particular sustainable, but at the moment, I'm putting things in place to change that. The work I'm currently doing, to make One HealthTech a more viable and sustainable business, should allow me to take a couple more days off!

How do you balance work and life outside of work?
That division doesn't really make sense to me because I don't really feel like I work at all. I know that's a very cheesy thing to say, but I do find it very energizing. I have two jobs that don't have formal structures. If you have a 9-to-5 office job, it's very easy to clock off when you leave the door. I have two very flexible jobs, which is amazing because it means I can do my job from a beach on the Bahamas, or from my bedroom in London. However, that also means it's very hard to draw the line between work and time off. As for balance, it's important to know that if you don't do something, it's fine – the world won't stop! I think that's something everyone comes to realize eventually.
Being productive gives me a lot of life satisfaction. Even when I'm on holiday, I'll spend an hour a day doing some work, which keeps me aware of what's going on. I think making things move, making things happen, is part of what gives me a lot of joy. When things start to stagnate – be that professional output, or my mind – I find that dissatisfactory.
I wouldn't say I've got it right yet. I'd like to see more of my friends. I have an amazing boyfriend who does a million and other things; I've certainly learnt a lot from him and we force each other to switch off.

In your position now, knowing what you do – what would you say to yourself back when you started your journey in academia?
I try not to really have any expectations. I haven't been disappointed, because I had very few expectations. I don't plan very far in advance. I don't imagine what the next month will be like. I just enjoy every week. A big life mantra of mine is never to regret anything you do. There have been knocks on the way, there have been frustrations, there have been great things, but it's all part of the undulating journey of life.

From your perspective, what is the biggest problem in health care today? Explain.
Misaligned incentives: who pays, how we're reimbursed, how people are incentivized to take ownership over their own health. That goes all the way from the top national level in terms of how we reimburse treatments, and the fact that we don't reimburse for preventive measure, right down to the individual level. How do we actually work out how to incentivize people to care about their own health? Incentives incentives incentives, everywhere, all misaligned.

Where do you see data science in five years?
It is a cross-cutting discipline, and it's increasingly being incorporated into every aspect of what we do. I think we'll be increasingly reliant on these very large datasets to really tell us the story of what's going on. We don't know what's happening in the NHS unless we have data to tell us what's happening.
But at the moment, the data doesn't flow through a system. We've got to make data systems talk to each other. We don't have a unified health record, and we don't have interoperability between the several different EMR systems that are in use. Having data that actually flows through a system would be my hope for the near future. Basic… I know.

What are the most exciting health innovations we need to look out for in the near future?
Solutions that actually solve a problem. I think there's a lot of snake oil in digital health. A lot of what's being done involves just digitizing the status quo.
There's a lot of redundant technology, there's a lot of people who are innovating for the sake of innovating. We have loads of digital health, but I wouldn't say that many people are getting healthier as a result of it.

What types of outreach/volunteer work do you do, if any?
One HealthTech is a volunteer-led network. I could draw a salary from it, but I don't, so does that count?
Besides this, I do some volunteering with a group that looks after and helps people who live alone. They also often have dementia. I hang out with them for an hour a week; we go to an exhibition or a park. Sometimes we can go to a bar at 3 in the afternoon. One of the people I talk to, a 76-year-old lady, used to be a total party animal, so we go to the rooftop bars in East London and relive her trendy youth!

Do you have any final piece of advice for students interested in pursuing your specialty as a career?
Constantly explore. Put yourself on a limb all the time. I am always uncomfortable with the dearth of my knowledge, so I'm always trying to learn as much as possible, trying to talk to as many people as possible. The health innovation space is so nice, because it's full of people doing this on the side.
The field self-selects for really, really nice people. Everyone's there to help each other, and to show people what they're working on, how to get involved in their projects, etc. Spend a lot of time going to meet-ups, because that's where the most helpful, kind, interesting people hang out.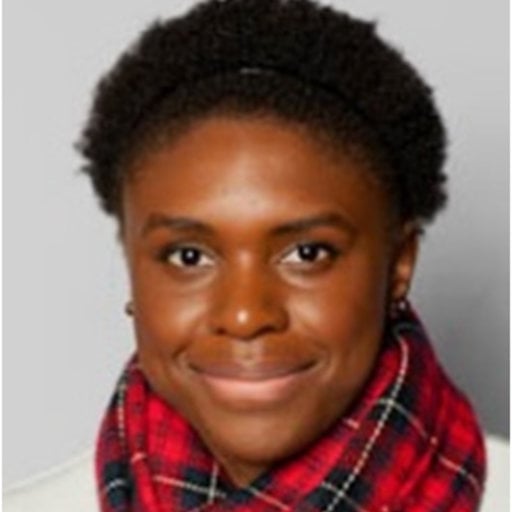 Gloria Onwuneme is a graduate of the University of Nottingham School of Medicine.