Last Updated on June 26, 2022 by Laura Turner
Ask any doctor, in any specialty and of any age, and they will remember their training in medical school. It is full of learning, new experiences, new friends, and major strides in both personal and professional development. With so many changes, dozens of obstacles in each student's life must be confronted and overcome. Fortunately, medical schools have extraordinary people who devote their time and talent to guiding and supporting medical students through their four years. This column interviews these people at medical schools around the country to help students learn more about the resources they have available during their years in school.

In our second installment, I interviewed Dr. Sara Barnett. Dr. Barnett is the Learning Specialist in Medical Education for Saint Louis University School of Medicine (SLU SOM).
Please summarize your role as a learning specialist.
In a nutshell, I enable medical students and residents to achieve academic, personal, and professional success. When I do my job well, students have less stress, more confidence, more free time, and better academic outcomes.
How common is your position at medical schools? Is it a traditional position or a newly developed one?
While a few schools have had a learning specialist for decades, it seems that in the last decade this position has really started to take hold. I am the first learning specialist to work at SLU SOM, which was exciting because I got to shape the role myself. The community of learning specialists is small and welcoming, and many of my counterparts across the country were very helpful in helping me establish our program at SLU.
Why did you choose to become a learning specialist?
I actually fell into the role. As I was working part-time at SLU teaching future teachers about assessment, I heard about the job opening and after doing a tiny amount of research, I realized it would be the perfect fusion of my love of working with students and academic coaching. My husband of 20 years is a general surgeon and we have been together since undergrad days, so even though I haven't been to medical school, I have lived through it!
What was your path to becoming a learning specialist?
I started my work life as a middle school math teacher and taught for many years before taking a break to raise our three girls. While teaching, I earned my Master's degree in Educational Psychology, with an emphasis on curriculum, technology, and educational reform. When my girls were all in school full-time I went back to school as well, this time for my PhD in education. During that time, I taught courses in the education department and fell in love with higher education students while I continued to work part-time. When a full-time job opened up giving me the opportunity to work with over a thousand students/residents at a time, I knew it was the right move for me. I continue to teach assessment to future teachers though because I couldn't let that part of me go!
Why did you choose to work at a medical school?
I have a desire to support medical students since I lived with a medical student once myself. He went to a very supportive school and benefited directly from that environment. I wanted the chance to give back to our future physicians.
Are there unique challenges to your role at a medical school?
I think time is the biggest challenge. I want to connect with all the students yet with classes of 180 it makes it hard to do.
Is there anything that surprised you when working at a medical school?
Not so much a surprise, but more an explanation of why my husband often says to call the doctor when I have an ailment of some sort. I used to respond that he should know since he had been to med school. Now I realize that while they learn a ton, the highly specialized training and learning takes place in residency. Medical school just lays the foundations.
Has your view of your work changed since you began working with medical students?
Before I started working with med students, I had my own parallel experience with my husband and his med school and residency years. He took Step 1 in a time where it was not as pressure filled. He took a few days to study and the class took it all on the same day. Now you have weeks to prepare (and agonize over your preparation) so it is more intense.
Please describe a typical day in your shoes.
I typically will see 6-7 students a day, unless it is Step 1 season, at which point I will have meetings with 8-10 and talk to a few others for a few minutes for a check in. I frequently do whole group meetings with each class, but find that the deeper connections come in a one-on-one situation. I also serve on several School of Medicine committees, so often you will find me running to a meeting where we are hopefully making the school a better place.
What is your favorite part of your job?
Hands down, not even a question, meeting with students each day and making connections with them. At SLU, we strive to educate the whole person, and I love that my job is focused on checking in with people not only about academics, but life as well. For my second year students, I love seeing them leave my office a little calmer than when they walked in.
What is the hardest part of your job?
Couldn't just pick one for this one. First, I hate seeing students wrestle with imposter syndrome, where students feel as though they don't belong in med school because they doubt their own capabilities. It seems like just about everyone goes through this internal struggle at some point. Getting into medical school is hard. We know you are going to do great things, but sometimes students have serious doubts about themselves. Such self-doubt is misplaced and I, along with my colleagues, do our best to reassure the students of their great potential. The other hard part is finding time to make connections with all the students. With 180 students per class, plus the 600 residents I also work with, I am stretched pretty thin.
Is there any general advice you typically give medical students?
I do find myself saying the same things over and over again it seems:
First, while things are rough from time to time, everything has an end and you can do anything when you know it will be over. Even if that means you have to study for two months solid for Step, a year from now it will be a distant memory. Second, being a medical student is just one part of you. You have to cultivate your relationships, prioritize exercise and sleep, as well as continue, or discover, hobbies. Third, medical school is all about managing expectations. Students tend to overestimate what they can do in a given time and then become upset when not everything happens as they planned. Therefore, I try to remind them to set realistic goals that are more attainable. Success begets success. Finally, and perhaps most importantly, I always tell students to offer themselves the same grace you would offer others. You will fall short of your goals sometimes and it will still be ok.
Of course in terms of learning advice, I offer a lot of that too! Three things that come out of my mouth every day are the need for spaced repetition, constant retrieval practice, and the need to interleave topics/subjects for deep learning. All three are essential if the learning is going to stick and be long term.
Can you share any especially memorable experiences you have had as a learning specialist?
After a particularly long Step season, my second year students surprised me with heartfelt thanks along with flowers and a gift certificate to my favorite restaurants. It was completely unexpected and totally cherished.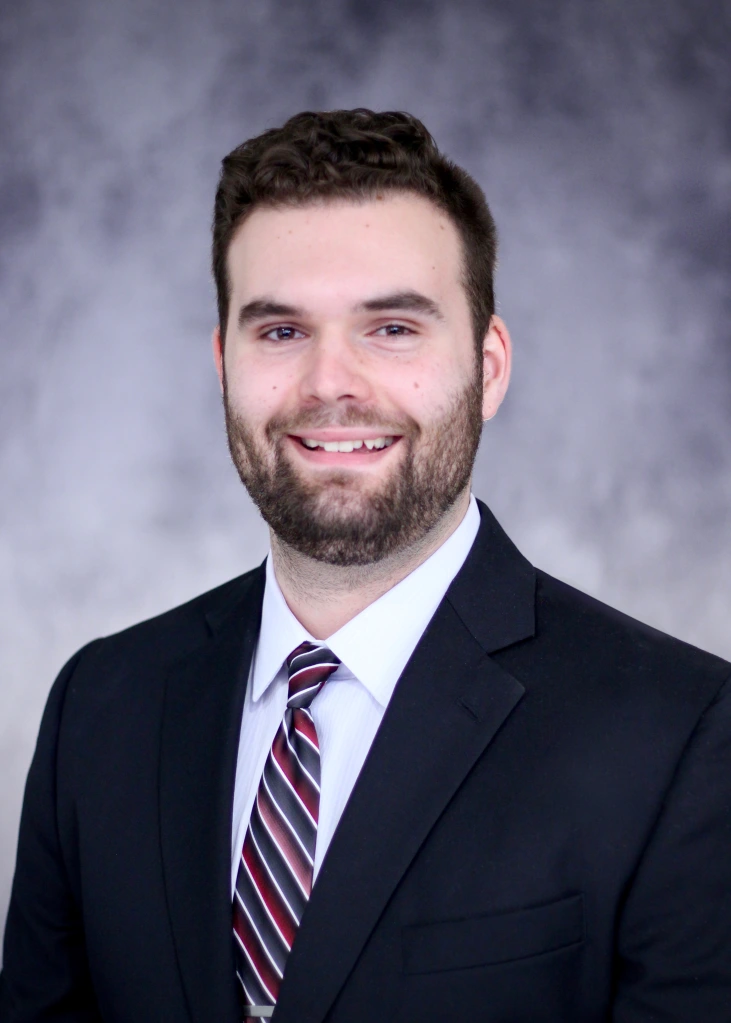 Raised in Wyoming, Jacob Adney, MD, is a third year resident physician at St. Louis Children's Hospital in St. Louis, Missouri. He completed medical school at Saint Louis University School of Medicine, where he earned a Distinction in Medical Education. His research included analyzing the effects of smoking on myocardium.