Last Updated on June 26, 2022 by Laura Turner
The AAMC Premed Team recently conducted a few twitter polls which asked premeds to share what you are looking for in a medical school. We received hundreds of responses, and while a school's mission statement and scholarship opportunities were both important influences, the results pointed to one factor above all others: location!
In our poll, 48% of students who voted said that location mattered the most when choosing a medical school. That made us want to dig deeper, so we asked what about location mattered most. Was it distance from your home town? Whether the medical school was located in an urban, rural, or suburban community? We were a little surprised to see another obvious winner. Students were most concerned about whether a medical school was in-state or out-of-state: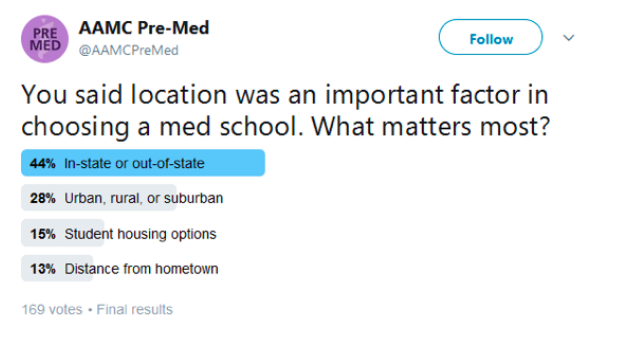 There are a lot of myths that may deter you from considering an out-of-state school, but they aren't all true for every applicant. For example, you may hear that they are harder to get into or are more expensive than in-state schools. For many schools that can be true, but it's not always the case. Nationally, 61 percent of 2016 matriculants attended schools in their home state, but that means 39% chose an out-of-state medical school.
More expensive? While it's true that some public schools charge more tuition for out-of-state students, many private medical schools charge the same for in-state and out-of-state students. Plus, some private institutions are able to provide significant scholarship aid to qualifying students which means you could graduate with less education debt than you would have if you had attended a public medical school in your home state. You can view tuition and fees and financial aid information for each school in the Medical School Admission Requirements (MSAR).
Harder to get into? It's true that many public schools admit a certain percentage of in-state residents each year because the school receives state government financial support. However, if you are interested in working in a particular geographic area or if you connect with a school's mission, especially related to the needs of a particular patient population, you may be a good fit for that school, even if it's in another state
Don't accept out-of-state students? Some state schools do not accept out-of-state students, but others admit a certain percentage of out-of-state students each year. Some schools have agreements with neighboring states where their students can have in-state status. Check out the Matriculation Data for First Year Class in the MSAR to see how many out-of-state students applied, interviewed, and matriculated compared to in-state students at the schools you are considering
Location is certainly a valuable consideration, but when choosing where to apply, don't immediately rule out a school based on location alone. In addition to exploring a school's website and MSAR profile, in person and virtual events are a great way to learn more about a school. In fact, on February 15, the AAMC is hosting its 3rd annual Virtual Medical School Fair. This is a free opportunity to chat with medical schools from all over the country and learn about their mission, admission requirements, and more. As you consider both in-state and out-of-state schools, this worksheet can help you weigh different factors.
You can register for the virtual fair here.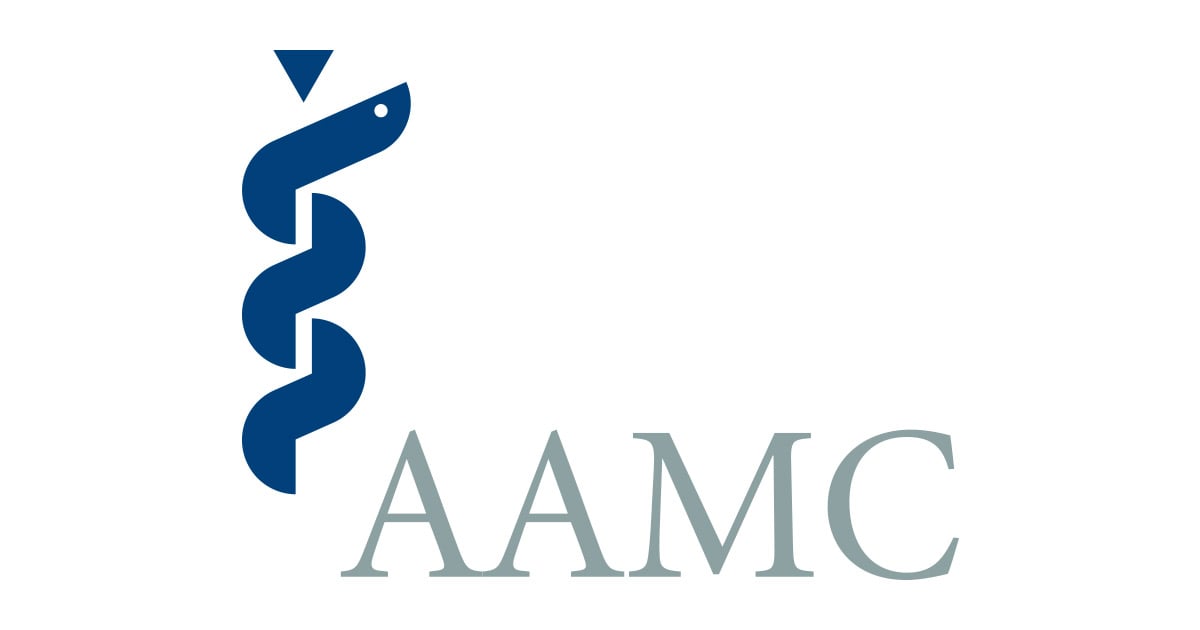 The AAMC leads and serves the academic medicine community to improve the health of people everywhere. Founded in 1876 and based in Washington, D.C., the AAMC is a not-for-profit association dedicated to transforming health through medical education, health care, medical research, and community collaborations.