Last Updated on June 24, 2022 by Laura Turner
This week, listener Jen sent us an article from JAMA in which the author bemoans his tendency to let the electronic health record (coupled with his data-entry difficulties) dominate his attention at the expense of his ability to really see and empathize with his patients. The cost: missing clues that indicate a patient's progressive decline and family dynamics that contribute to the condition.
Meanwhile, Chrissy Teigen and John Legend find themselves chewing on sleeping pill side effects, causing us to wonder–why is Ambien still on the market, unless it's to create really great slam poetry? And we practice our teamwork in a mobile game called SpaceTeam, proving perhaps that not all such games make for good podcast fodder–you decide, but don't @ us, we already know the answer.
This Week in Medical News
Will we see a shift in the standard of care for appendicitis, now that a Finnish study has backed up the mounting evidence that it can often successfully without surgery? And a study on the high costs of poor healthcare around the world suggests that fixing it will cost 6% of the cost of doing nothing.
Podcast: Play in new window | Download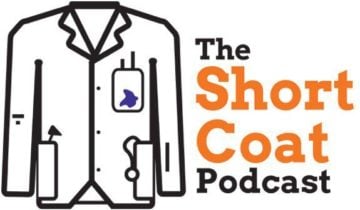 On The Short Coat Podcast, medical students from the University of Iowa and their co-host Dave Etler discuss news, fresh views, helpful clues, and interviews. Hear new episodes on iTunes and the Short Coat Podcast website every Thursday.