Last Updated on June 23, 2022 by Laura Turner
Nineteen hundred dollars a month. That was the cost of infant care at my son's daycare facility. It was nearly my entire MSTP stipend. For one kid. Something had to give. We needed better childcare options.
Like most non-traditional students, I am no stranger to the finances of daily living. I have been paying bills, budgeting, and lamenting utility company monopolies for some time. Morning coffees add up. There will be an unexpected bill every single month. And credit cards are incredibly dangerous.
I am also that much closer to retirement, unable to take advantage of compound interest in the same way that my younger co-students will after graduation, and in substantial educational loan debt. With two kids in tow, I need my finances to work.
If I had kept both children at my son's daycare, I was looking at a bill of thirty-four hundred dollars a month. Yep. Nineteen hundred for the infant and fifteen hundred for the three-year old. Our three-year old alone was barely manageable, to give you an idea of our budget. Childcare for two at this rate wouldn't just be a sacrifice, it would be literally impossible.
When we had first moved to Baltimore all the facilities we looked at fell around this price range. The more community-oriented centers near us had been full. We hadn't yet started exploring the joy that is infant care in Maryland, where the 3:1 ratio requirements and poor supply of childcare providers have made affording care near impossible.
The childcare crisis isn't limited to Maryland. The media has long reported that childcare costs are influencing young people's procreational decisions and keeping women out of the workforce. For a one-income-earning household, even with loans or a stipend to help with expenses, childcare costs hit especially hard.
Researching Childcare Options
Months before my second child was born we started to formulate a plan. We lucked into a community center daycare and moved my son, halving his care costs. Unfortunately, over the next few months I watched my articulate, sensitive kid become an unruly, aggressive, baby-talking version of himself. The new program wasn't a good fit. Additionally, community-based centers didn't seem to exist for infants. They all started at age two.
I began contacting stay-at-home moms and in-home centers: too expensive, too expensive, full, full. The one affordable in-home center I did visit had the kids planted in front of the TV in a tiny, dark row house. They were doing the best they could, but the space was never going to accommodate boisterous children. I couldn't imagine leaving my kids there for hours on end. I needed to get creative.
Nanny Sharing
This was my first stop. A nanny share is where you coordinate with another family (or families) to have your kids watched together. The idea is that your nanny can be paid a living wage without one family footing the whole bill. Depending on the specific set-up, this can be less expensive than a daycare center. We didn't end up going this direction because most of the families looking into a nanny share were working with a higher budget. One woman even commented on my nanny-share-hunting social media post that I should look into childcare subsidies given my budget. We could have set up our own but we were worried that we'd be left with the whole bill if we couldn't find another family.
Cobbled College Kids
The reason a full-time nanny is so expensive is that they need to make a living wage. As full-time employees, they need to support their own families on this salary. If you're comfortable cobbling together a care schedule using college and high-school aged kids, their requirements are different. They generally command lower hourly wages, though they still legally need to be treated as employees. We found a couple quality students who were happy for work for minimum wage in Maryland, greatly reducing our price tag. Forty hours of care at ten dollars an hour is sixteen hundred a month. Finally, something that was possible.
Cobbled College Kids + Flex Hours
Possible is good, but easily manageable is better. We realized that given my flexible schedule in MS2 and my husband's flexible job, we could move our schedules around to allow for fewer hours of care. I would head to school early and he would work late. If we each took a two-hour childcare shift during the day, we could cut our costs in half. Instead of just possible, this would be entirely manageable.
Flexible Scheduling + Working-From-Home
By the time we had cut our childcare costs in half by taking advantage of flexible scheduling, we wondered whether we could do better. My mandatory class hours are consistent, reliable, and only require me to be on campus two hours a day aside from one afternoon a week. I can study anywhere the rest of the time. This is when we got really creative.
Co-Working for Parents
Coworking for parents is a relatively new concept that is taking off in major cities. The idea is simple: pay for membership, stay on-site, and childcare is provided either for free or at minimal cost. The concept is intended to help entrepreneurial parents get ideas off the ground. If is works for them, why not for a medical student intend on getting their career off the ground? The Cube, with monthly membership rolling in at one hundred dollars a family, offers childcare for five dollars an hour. When I contacted them, worried that I might misusing the space if I came every day to study, I received the following email from their owner, entrepreneur Tammira Lucas:
"We would love to have you. You would not be misusing the space, actually your reason to use the space is one of the reasons we exist. We have had moms use our space for that same reason several times. We hope that you will become a member and look forward to greeting you and your little ones at the door."
Though coworking for parents isn't available everywhere, if you're in a major city chances good that you can find a similar organization.
Gym Membership
A gym membership with childcare has long been a source of relief for stay-at-home moms. Why not mostly-stay-at-home medical students? I started calling around and quickly had several options. My husband and I visited the two child-friendly gyms near our home and were impressed with both. The enrollment specialists were open to me working in the café instead of exercising while the kids were being watched. One even confirmed that I was welcome to come both in the morning and in the afternoon, utilizing the two-hours of free childcare during each visit. That is four hours of childcare a day for the cost of a gym membership fee. Not too shabby.
Childcare Achievement Unlocked
These two resources in combination with my husband working flex hours and occasional sitter hours for when I had extra mandatory classes were all we needed – the preclinical medical school childcare puzzle had been solved. Even if my husband couldn't contribute at all, I could have knocked my childcare hours down to three hours most days (to include time for my commute), with only one day each week requiring additional care. We rejoiced and drank fancy wine.
Childcare in MS3 and MS4
I'm in a unique situation whereby my husband works from home and can potentially execute this plan without me. For people whose only super-flexible-work-from-home parent is the medical student, this plan falls apart after preclinical years. Rotations during medical school are notoriously unpredictable. Even working a flex-shift with my husband will be impossible. Luckily, I now understand all our options.
For us, in Maryland with an infant and three-year-old, cobbling together school-aged sitters is the most affordable choice unless we can find a quality in-home center that is both affordable and available (ie. the childcare unicorn). We'll likely be sticking with college kids.
For someone else, the numbers will add up differently. Depending on school schedules, the price of care, and your spouse's situation, a different arrangement of resources may make more sense. It is worth taking the time to look at all the options before beginning medical school if you already have kids or plan to start a family. Childcare is expensive, even for families where both parents work. A lot of research and a little creativity goes a long way.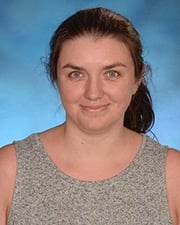 Erin is a non-traditional medical student training to become a physician scientist. Before starting medical school she worked as a writer, bootstrapped an educational non-profit in Cameroon, and made hundreds of underwater videos for tourists in Thailand. She lives with her husband and two children in Baltimore, Maryland.