No available or affordable program for your healthcare profession in your home state? Take heart! Students in Western U.S. states  do  have access to affordable professional degree programs in nearly a dozen healthcare specialties, thanks to the  Western Interstate Commission for Higher Education's (WICHE)  Professional Student Exchange Program (PSEP).
Healthcare workers of all kinds are in high demand, especially in the West's chronically underserved rural areas. Although educating more healthcare professionals is crucial, given fiscal pressures and small state populations, it doesn't always make sense for a state to create its own program in certain healthcare professions. WICHE was established by Congress as an interstate agency in the early 1950s to help states with public programs in selected healthcare professions share their programs with states that had none.
Over the last 65 years, some 15,000 practitioners have earned their professional degree through PSEP. In the 2016-17 academic year, 10 WICHE states invested $14.7 million to provide affordable healthcare education to 640 students. Students can choose from more than 130 fully accredited programs offered by some 60 institutions in 10 healthcare fields: allopathic and osteopathic medicine, dentistry, occupational therapy, optometry, pharmacy, physical therapy, physician assistant, podiatry, and veterinary medicine.
Students enrolled through WICHE's PSEP pay reduced tuition at out-of-state public and private institutions. Depending on your field of study and where you enroll, you can save between $8,000 and $32,000, per academic year. Your home state legislature has committed to "buy down" your tuition costs in the above-mentioned healthcare fields. Those funds are administered through WICHE and sent directly to the enrolling institutions.
To be considered for support, you must meet your home state's residency requirements. The deadline to apply for consideration is October 15  for most states, but others' deadlines are earlier. It will take some time and effort to pull together the required documentation, so  click here to prepare your application now.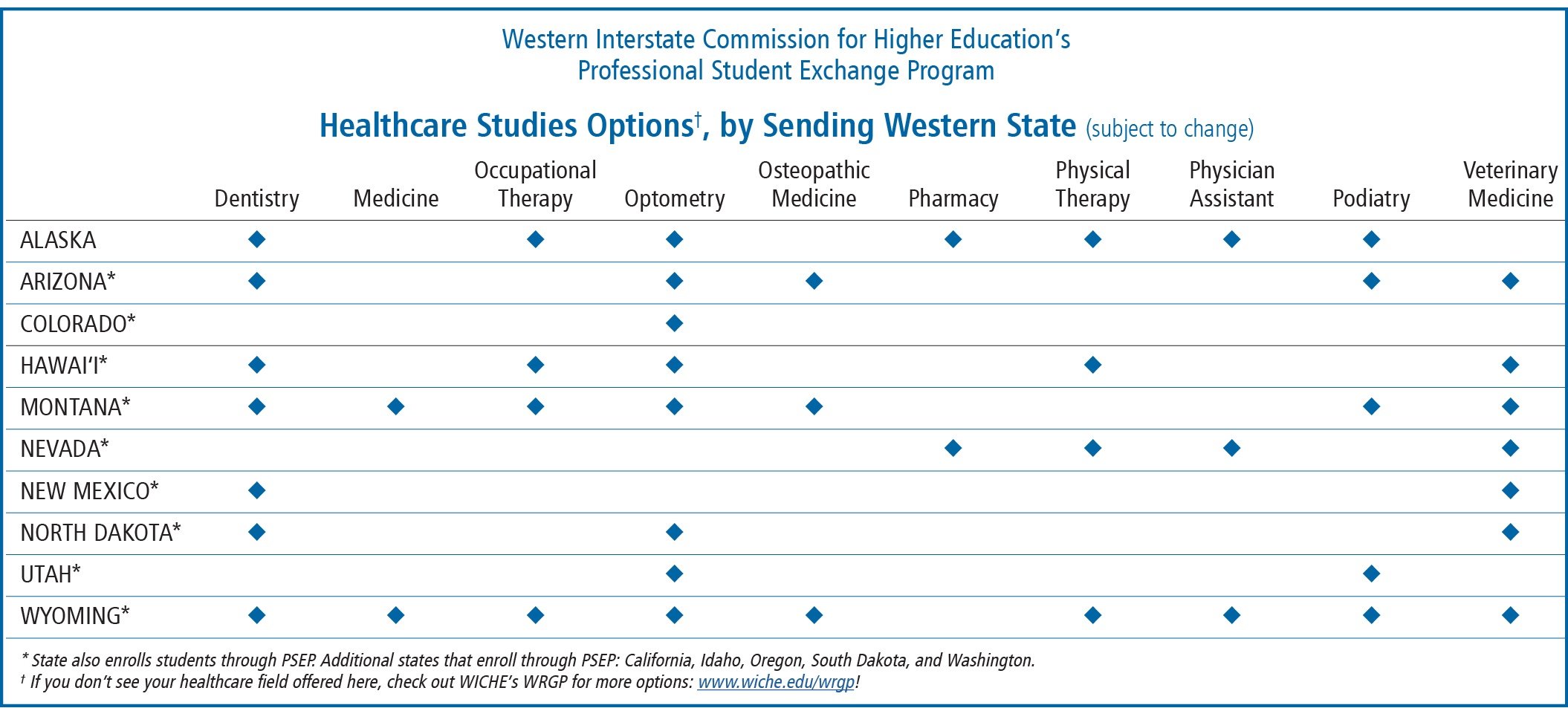 Most states that support students through PSEP require graduates to return home and practice for three to four years—enabling WICHE states educating their healthcare workforce through PSEP to get an excellent return on their investment. For more information, visit  www.wiche.edu/psep  or contact  [email protected].
Through the  New England Board of Higher Education's Tuition Break program, residents of some New England states are eligible to pay less than nonresident tuition in the fields of medicine, dentistry, and others. Residents in the South have similar options through the Southern Regional Education Board's Regional Contract Program.