Can you tell me about the mission of The Madam Dreamers Academy?
The Madam Dreamers Academy (TMDA) was created in 2016 by a pediatrician and preventive medicine physician, Jasmine Zapata, MD, MPH, as a means of staying connected to her own mentees – both inside and outside of medicine. Since its inception, this group has quickly morphed into a virtual, prominent support network for women underrepresented in medicine at the pre-medical, medical, resident, and attending levels as well as a safe space for other pre-health/health-related paths, serving well over 1,500 women. This group's mission is simple – patching a leaky pipeline to medicine. This group is critically important in encouraging women to pursue careers in medicine, mentoring members to strengthen professional school qualifications, providing insightful resources and opportunities, molding culturally sensitive physicians through philanthropy and volunteerism, and creating a safe space by prioritizing transparency between physicians and mentees. TMDA is continuously growing and has been successful in currently supporting over 1,600 members at all levels of training across the nation!
What motivated you to join?
As a pre-med who identifies as an underrepresented minority woman in medicine, this group was Heaven-sent as I stumbled upon it on Facebook. As I read Dr. Jasmine's warm welcome note before even requesting to join, I could feel the inclusiveness and sisterhood that I'd been craving throughout undergrad. I needed a strong network of people, specifically minority-identifying women, who were doing and have done what I was and still am trying to do – become the best physician that I can be. For me, TMDA has been that for me and more. I've found multiple mentors, sisters for life, and what might have taken years for me to learn and figure out individually, the wisdom and accountability in this group have created so many shortened pathways to my dreams.
How do you apply your experience and background to serving its mission?
As I've worked to navigate my own journey, I've been afforded a multitude of opportunities along the way. As the group's administrator, I've grown my own network of medical students, residents, and attendings and have used this established nationwide network to facilitate mentor-mentee relationships and meaningful connections for so many other Dreamers. Further, I've been able to get to know what each one of our members can bring to the group. By taking time to truly get to know our members, Dr. Jasmine and I have been able to curate once-in-a-lifetime retreats, conferences, summits, seminars, and more that have been extremely advantageous in shaping Dreamers' medical school applications and qualifications while cultivating world-shaking doctors.
How does TMDA accomplish its mission?
Simply put, TMDA accomplishes its mission by matching our passion to action and execution. Our student-led leadership team works around the clock to curate virtual and in-person experiences and opportunities, such as our monthly meetup sessions, regional meet-ups, and annual conferences. We pull from within our expansive membership base while partnering with outside organizations, medical professionals, and institutions to ensure our members have adequate support and resources needed throughout their medical journeys.
Who is the target audience?
TMDA was created for women underrepresented in medicine. We focus specifically on students embarking on MD/DO paths but gladly welcome other allied-health medical professionals as well.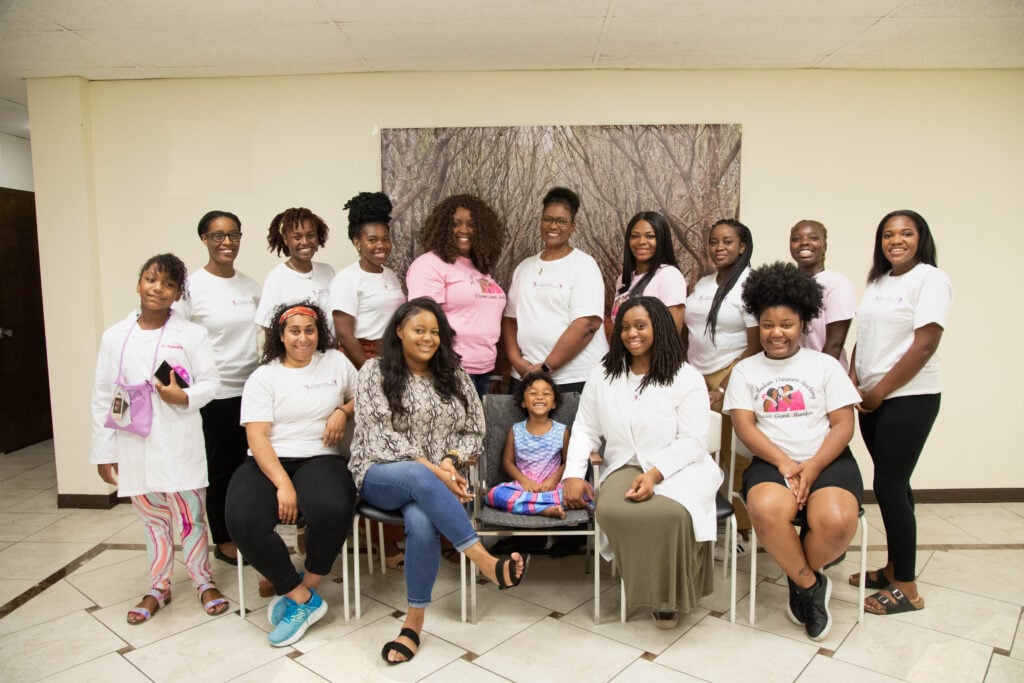 What advice do you have for them?
Find your tribe and take full advantage of it! A large part of embarking on a journey to medical school and in medicine is of course mastering the scientific foundational knowledge, but equally important is finding and tapping into your social and professional medical networks. Take time to find a group of peers on your same professional level AND physicians who can provide advice, shadowing, and other professional opportunities. Most importantly, find multiple mentors. Request formal mentorship from physicians who you trust who can serve as sources of accountability, inspiration, and motivation.
What challenges do you encounter fulfilling this mission? How do you need people to help?
I think one of the biggest challenges that we encounter in fulfilling our mission is expanding the depth of our reach. The positive and long-lasting effects of pipeline mentorship for URM students in medicine are statistically proven. There is a HUGE need for representation in medicine and for those choosing MD/DO paths specifically and we understand and KNOW this. However, it can be difficult finding the most efficient way to reach all of the students who we hope to support. By partnering with amazing organizations and companies such as SDN, this is the greatest and most appreciated help. Another one of our greatest challenges is building funding for our multiple initiatives such as conferences, retreats, seminars, etc. We want to bring quality, well-rounded programming, and support in the form of micro-grants, test prep material assistance, and continue to bring in moguls in medicine, but definitely want to be cognizant of associated costs and fees for our members as finances are one of the top reasons why underrepresented minority students choose not to pursue a career in medicine or are unable to commit. We need institutions, companies, organizations, and people who believe in the mission, understand the need and are able to support our members and programming initiatives financially through sponsorship and formally through mentorship in an effort to help them reach their dreams and encourage retention and matriculation into MD/DO programs for minority women in medicine.
What upcoming events are planned?
One of TMDA's largest events is our annual Madam Dreamers Academy Conference. This year the TMDA Conference was hosted both virtually AND in-person August 6 – August 8, 2021, in Chicago, IL. We had a variety of medically and culturally relevant sessions, panels, and discussions including specialty spotlights/virtual shadowing, a doctor-preneurship panel, mock interviews, financial advising, building generational wealth and loan repayment, non-traditional paths to medicine, and so much more!
Though this year's conference has already passed, we are excited to continue bringing "monthly medical meetup sessions" on many of these same topics while continuing to curate opportunities to help strengthen our members' medical school applications, residency preparedness and provide continuing education for those currently in medical school degree programs. We look forward to hosting other large-scale opportunities, similar to our annual conference, in the forthcoming year.
What are some future directions for TMDA?
The future is forward-facing and bright for TMDA. We hope to continuously expand our group and shift to a personalized platform made for our members that will house workshops, lectures, resources, and tools to continue pushing more minority women in medicine. In addition, we hope to eventually facilitate our first student-led mission trip. We also aim to establish scholarship, internship, and other leadership opportunities for our membership base in the forthcoming years to continue prioritizing our pipeline model.
Do you identify as an underrepresented woman in medicine? Join our sisterhood on Facebook by clicking here or typing in "The Madam Dreamers Academy" in the search bar. Follow us on Instagram @madamdreamers.