Last Updated on June 27, 2022 by Laura Turner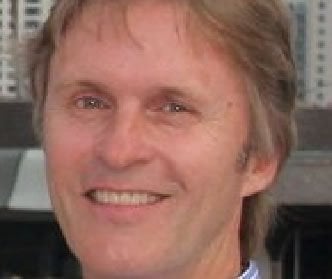 Dr. Jerome Daby owns a private dentist practice in Sacramento, California, where he specializes in preventative and restorative dentistry. He earned his bachelor's degree in biology from UC Davis, and then attended the three-year dental program at University of the Pacific (UOP), where he earned his DDS.
Opting not to complete a residency, Dr. Daby went straight into private practice with his brother, also a dentist. A year later, Dr. Daby bought a practice from a retiring dentist, and the rest is history.
When did you first decide to become a dentist? Why?
When I went into college, I majored in biology and was looking at medicine. I come from a dental family—my father is a dentist and oral surgeon, and my older brother is a general dentist. After my sophomore year of college, my brother thought I might like dentistry more than medicine. I had also worked in my father's office every summer "holding chin" (keeping the airway open when the patient was under anesthesia).
How/why did you choose the dental school you went to?
I went to the University of Pacific dental school, which was private and thus more expensive. Had I gotten into a California school, I would have gone. I applied to everything in California, and some out of state as well (including University of Minnesota, which is where my father went, as well as University of Washington St. Louis). I did get accepted to them, but decided to stay in state and went to UOP.
What surprised you the most about dental school?
I'm artistic and like to do things with my hands, so dentistry was a good fit. I think the hardest thing was that you can spend all the time in the world to make things perfect, but when you're in the real situation, it's a lot different. I realized after going into dental school that although I had experience at my father's office, I had no idea what it was really going to be like.
How and why did you choose to go into private practice (versus a group practice)?
I've been in private practice over 25 years. When I started, I did go into practice with my brother. At that time, we were able to work on Medi-Cal patients, so I saw a lot of them. A year later, I had the opportunity to buy a practice from a retiring dentist, and I did. I could have stayed with my brother—there's 13 years difference between us and we get along fine—but it's tricky meshing families and work life. When you have a dental practice partner, it's like a second marriage.
If you had it to do all over again, would you still become a dentist? (Why or why not? What would you have done instead?)
I would do things exactly as I did.
Has being a dentist met your expectations? Why?
Yes. Like my father and brother, I'm more concerned about doing what's right, being with my family, and balancing work and life. All of that versus pursuing lots of money. I'm not the most expensive dentist in town, and I make less than other dentists, but making a ton of money has never been my goal.
What do you like most about being a dentist?
I'm really happy because I get to do something and see the results. Working with people can be difficult, but there's also much more gratification. A lot of patients have become friends. I'm providing a service to people on a daily basis. It's nice to have a skill to give to people.
What do you like least about being a dentist?
The business aspect—staff issues, insurance, financial stuff. I took and still do take business courses, but that's the stuff I don't like.
Describe a typical day at work.
I see about eight patients a day. The last couple of years have slowed down, and where I used to have two hygienists full time, I now have one two days per week. I do restorative dentistry, but I also do cleanings myself now, too.
We are open two days a week from 7:45 a.m. to 4:45 p.m. with an hour lunch, and two days a week from 6:45 a.m. to 3:15 p.m. with a half hour lunch. So I see eight patients more or less four days a week.We're efficient but not hurried. I hate to wait for doctors, so I don't like to make my patients wait either.
Do you work with mid-level providers? If so, what kinds?
No.
On average: How many hours a week do you work? How many hours do you sleep per night? How many weeks of vacation do you take?
I am seeing patients four days a week for eight hours each day. At times I am also active in the dental society, peer review committee, and study clubs.
I sleep about seven hours each night.
I take a week off twice a year, and have Fridays off as well.
When I first started out, I worked six days a week—three covering for another dentist practice when the dentist was on maternity leave, and three at my own practice.
Do you have family, and if so, do you have enough time to spend with them?
I do have family. Dentistry lends itself to family life very well. You can have regular hours, there are not a lot of emergencies, and the extra time I have I spend by my choosing—volunteering, continuing education, etc. I have lots of free time, as much as I want. I am able to look back on my kids' lives and say I haven't missed anything.
Are you satisfied with your income?
Yes—I make an amount of my own volition. I could make more, but I am happy with what I make.
If you took out educational loans, is/was paying them back a financial strain?
I was a lot more fortunate than most students, I did take out student loans, as well as a loan when I was buying my practice and initial equipment, but I had a trust fund that paid for part of it, and my parents helped pay for part of my tuition. But I did take out loans, too. I lived frugally and paid my loans back quickly. I did it fast and easily.
In your position now, knowing what you do – what would you say to yourself 10 years ago?
I would tell myself not to be as stressed out and think I have to attain perfection, because perfection is impossible.
What information/advice do you wish you had known when you were pre dental school?
I enjoyed high school and dental school, but as for college, I studied hard and graduated. I wish I would have enjoyed college a little bit more.
From your perspective, what is the biggest problem in dentistry today?
I worry about dentistry. It's a bad economy, and I fear dentistry will start focusing on money making and not healing. It's the same with healthcare. We need to treat the person and be less greedy.
Where do you see dentistry in 10 years?
I see dentistry being fine. We will hold our fees down and stay reasonable. We really care, as a whole, about doing what's best for oral health. We will hold off influence of third parties. We're much better off than the medical profession. I think we'll be ok.
What types of outreach/volunteer work do you do, if any?
I participate in Smiles for Kids through the dental society, which provides screenings throughout the year to those children who don't have Medi-Cal or insurance and would otherwise fall through the cracks. We also "adopt" one of those children and provide dental care for them.
We have also donated dental services to the Handicapped Foundation for the past 15 years and plan to continue to do so.
I also participated in the RAM (Remote Access Medical Services) clinic last year—the first one in Sacramento. This is also through the dental society, and I plan to participate again this year.
Do you have any final piece of advice for students interested in pursuing dentistry as a career?
As with any job, look at the lifestyle it provides, Look at what it means to be your own boss and run things the way you want to and be the person and dentist you want to be. It's a very gratifying profession, with the potential to live comfortably. You're probably not going to be a billionaire in dentistry, but it's an honest, satisfying life with good hours.
Juliet Farmer is a writer with over 19 years of experience in various industries and a contributor to numerous consumer and trade publications and websites.