Last Updated on June 27, 2022 by Laura Turner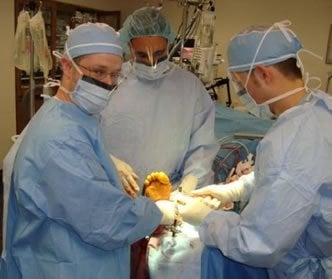 By 
Podiatrist Jonathan L. Williamson currently practices at the New Mexico Foot & Ankle Institute in Albuquerque, as well as holds admission, surgical and call privileges (emergency and floor) at five area hospitals. Prior to earning his medial degree, Williamson earned his bachelor's degree in both biological sciences and Brazilian Portuguese from the University of New Mexico in Albuquerque. He went on to earn a doctor of podiatric medicine from Des Moines University College of Podiatric Medicine and Surgery, and then served a three-year podiatric medicine and surgery residency at the Detroit Medical Center.
During his education, Dr. Williamson was awarded two educational foundation scholarships from American Podiatric Medical Association, as well as the Iowa Podiatric Medical Students' Association outstanding student award. Active in several professional organizations, Dr. Williamson currently serves as treasurer of the New Mexico Podiatric Medical Association, and he is also a member of New Mexico Podiatric Medical Association, American College of Foot and Ankle Surgeons, and American Podiatric Medical Association.
When did you first decide to become a podiatrist? Why?
I knew that I wanted to pursue a career in medicine but I wasn't sure which field. I shadowed quite a few different doctors and wasn't really excited about any of them. One day, I ran into a family friend who was a podiatrist and asked if I could spend some time with him. I loved it.
How/why did you choose the podiatry/medical school you went to?
I had a wife and kid when I started podiatry school and wanted a solid academic education but also a safe and quiet place for my family. The Des Moines University College of Podiatric Medicine was integrated with the DO program, which I liked, and Des Moines was a quiet, family-oriented place. It was also very affordable.
What surprised you the most about podiatry/medical school?
The thing that surprised me most about podiatry school was the amount of information I was expected to retain in such a short period of time. I didn't think it was going to be as difficult as it was.
If you had it to do all over again, would you still become a podiatrist? (Why or why not? What would you have done instead?)
I definitely would do it over again. In the end, I'm not sure that there is only one thing in this world that I would have been happy doing but I am definitely happy with my profession.
Has being a podiatrist met your expectations? Why or why not?
Yes, it has met my expectations. I had pretty high expectations concerning the way I wanted to practice and was able to find a place that allows me to do just that. Podiatry is a broad field and it is important to find a situation that will challenge and reward you. I think that is different for everyone.
What do you like most about being a podiatrist?
I like the diversity of the specialty. Recent surgeries [I have performed] include a trimalleolar ankle fracture, a flatfoot reconstruction on a 10 year old, a calcaneal fracture, a bunion, hammertoes, excision of a soft tissue mass, a transmetatarsal amputation, an ankle fusion, and a subtalar joint fusion. My clinic ranges from patients with nail fungus and plantar fasciitis, to severe foot deformities, fractures, and everything in between. Every day is different.
What do you like least about being a podiatrist?
I don't like dealing with the ever-changing insurance issues and paperwork. Medicine is a bureaucracy, especially when the government gets involved. Guidelines are constantly changing and need to be met. It's hard enough to keep up with the medical aspect of things but that is only part of the game.
What was it like finding a job in your chosen career field? What were your options and why did you decide what you did?
I started looking for a job my last year of residency. I sent my CV and cover letter to various private practices, orthopedic groups, and hospital groups in the area I wanted to practice. I got a handful of hits and ended up interviewing with a podiatry group and an orthopedic group. In the end, I liked the location, control, and freedom that went along with the podiatry group.
How much of your time is spent teaching/seeing patients/doing research? Can you change that mix if you want to?
Most of my time is spent seeing patients, but I usually spend at least an hour a day or more documenting (notes) and dictating (surgeries, H&P's, discharge summaries, etc). Residents from a local program scrub some of my cases and it is fun to teach them. I honestly don't do research at this point in my career. I can always change it if I get bored.
Describe a typical day at work.
I usually have a day or day and a half of surgery a week. I have surgery every Thursday morning starting at 7:30 a.m. and usually one other half day depending on the week. My clinic starts at 8 a.m. and my last patient is at 4:30 p.m. Monday through Thursday. On Friday, my clinic ends at 2:30 p.m. If I have patients that I have admitted, I round on them after clinic or at lunch if I have time.
On average: How many hours a week do you work? How many hours do you sleep per night? How many weeks of vacation do you take?
On non-call weeks, I spend 55 to 60 hours at work. On call weeks, it can honestly range from 60 to 80 hours depending on how busy it is. I only take call one week out of every three months. I sleep six to eight hours at night. I only take a couple weeks of vacation a year, but plan on taking more as time goes on.
Are you satisfied with your income?
I am very satisfied with my income. My original package was a reasonable salary and included health insurance, malpractice, 401K, etc. More importantly, it rewarded production. As I've gotten busier, my salary has continued to increase.
If you took out educational loans, is/was paying them back a financial strain?
No, not really. Don't get me wrong, I don't like paying them back, but can easily afford to do so.
In your position now, knowing what you do – what would you say to yourself 10 years ago?
Get ready to work but it will be worth it in the end.
What information/advice do you wish you had known when you were beginning podiatry/medical school?
Nothing in particular, I think you have to learn as you go. Those students ahead of you are a font of knowledge and you need to make sure you use them. The nice thing about life is that there are always people ahead of you that have been through what you are going through. Don't be afraid to ask a lot of questions.
From your perspective, what is the biggest problem in healthcare today?
As cost continues to increase, less people can afford health insurance. In the end, something has to give.
Where do you see podiatry in 10 years?
Podiatry has come a long way from its roots. In most places, podiatrists are now members of medical staff and are an integral part of the medical team. They hold surgical and admitting privileges. Hopefully, scope of practice issues will continue to resolve. There are still a couple states where podiatrists can't operate on ankles or have other such limitations. These political issues need to be resolved as it ultimately affects patient care. We are the foot and ankle experts.
What types of outreach/volunteer work do you do, if any?
I currently volunteer as the treasurer for our state organization and I help in the training of residents.
How do you balance work and life/family?
I take advantage of the weeks that aren't so busy. I have a wife and four kids. Some weeks, I am barely home, while others aren't so bad. I make those weeks count. I also try and take time off every two to three months.
Do you have any final piece of advice for students interested in pursuing podiatric medicine as a career?
It is a great field with a lot of opportunity. I would spend plenty of time shadowing a podiatrist and make sure that it is something you would be happy doing.
Juliet Farmer is a writer with over 19 years of experience in various industries and a contributor to numerous consumer and trade publications and websites.