Last Updated on March 18, 2019 by
There's a popular phrase, "If you've seen one medical school… you've seen one medical school." Every school is completely different, so it's a good idea to thoroughly research what programs would be best for you before you start the application process.
What are you looking for?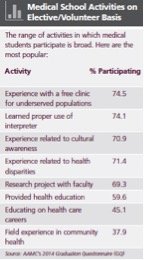 When you're deciding which medical schools to apply to, consider some of the same factors you weighed when applying to college: Are you looking for a public or private university? Do you want to attend school in your home state or out-of-state? You may also narrow your choices by considering the specialties offered or even which clubs and organizations are available to med students.
You may already have a good idea of what you're looking for, but before you begin the application process, it's helpful to hear advice directly from medical school admissions officers and current students. The Official Guide to Medical School Admissions includes chapter introductions written by current students that give some healthy perspectives like,
Applying to medical school is a constant assault on your self-esteem as you strive to meet the high standards that many people—but particularly you—set for yourself. Be realistic, but don't be ruthless. Know your weaknesses, but celebrate your strengths. The skills you develop before medical school will inform you for the rest of your life. Those numbers that got you there? They never matter again. – Luke Burns M.D. Candidate University of California, San Diego, School of Medicine, Class of 2018
The guide also includes information about everything from the application process, to choosing a specialty, to financing medical school.
Narrowing your search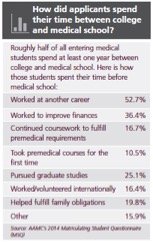 You can use the AAMC's Medical School Admission Requirements to help you decide where to apply. The Medical School Admission Requirements website includes class profiles for 141 U.S. Medical Schools, 17 Canadian medical schools, and 40 B.S./M.D. programs. All content is updated throughout the year directly by medical schools.
You can use the search feature to browse, sort, and compare medical schools on factors like specialty programs offered, thesis requirements, class size, costs and financial aid packages, and research opportunities. Each medical school in the database has a summary page that gives you a snapshot of the most sought-after information, such as key application dates, MCAT and GPA scores for accepted applicants, relevant medical, volunteer, work, and/or research experience of accepted applicants, and required and recommended pre-medical coursework. You can also enter your own coursework to see how it compares to each school's requirements.
When comparing schools it's easy to get caught up in the numbers. However, as medical school admissions are moving to a more holistic, competency-based model, schools are looking at a lot more than your GPA and MCAT score. Don't rule out applying to a certain school just based on their statistics. You'll also be able to find information on each school's graduates' specialty choices and USMLE Policies.
Speaking with an Advisor
Deciding where to apply is an important decision that requires a lot of planning. While these tools can be helpful, talking with the pre-health advisor at your school is a good idea. Schedule an appointment to discuss your options as early as you can. If you do not have a pre-health advisor, talk to an academic advisor, or find an advisor through the National Association of Advisors for Health Professionals (NAAHP) website.
For more information about the Medical School Admissions Requirements, the Official Guide to Medical School Admissions, and more resources for pre-meds, visit www.aamc.org/students or follow us on Twitter or Facebook at AAMC Pre-Med.