Last Updated on June 26, 2022 by Laura Turner
By Amy Rakowczyk, SDN Staff Writer
When my husband and I arrived in our new city of Columbus, Ohio for him to begin his medical training, we didn't know what to expect, but we knew we wanted one thing for sure: to find other people in our same situation and develop some friendships.
My husband is prior military, so we had grown accustomed to joining "Family Support Groups" at each new military station. It was like a ready-made family, already created for you, all you had to do was show up.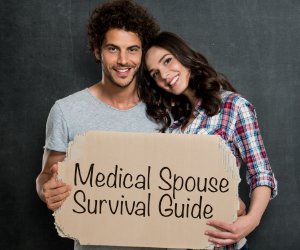 Each group functioned a little differently and needed different things. Some groups were large, requiring a full board to make decisions and run the group, and had more of a professional presence. They might have one small event a month and a large gathering once or twice a year. Other groups were small and intimate, meeting casually every week and holding extra events often. We found these groups to be incredibly helpful, and at times, a necessary part of our survival as a military couple. Of course all groups can have drama and challenges, so there was always some maneuvering to find where we fit and who "our people" were in each group.
Now that my husband was about to start a new career path in medicine outside the military, we knew that we wanted to seek out those that were in the same situation. We were not the only couple embarking on this intense journey that is medical school, and maybe another medical student and significant other would be willing to connect and see if a friendship might blossom.
So that's what we did. My husband's program did not already have a support group for couples in medicine, so we reached out and found some others interested in getting together. I'm going to go through my experience and provide a how-to of getting a group started in your program. If one already exists, I highly encourage you to give it a chance. Yes, it can be awkward at first, but you won't know who you will meet until you get there, and honestly, there will be very few other chances to try to cross paths with them.
What is a "medwives" support group?
Before I dive into the details of a starting or joining a Medwives Support Group, I'd like to clarify why I'm using the term "medwives." "Medwives" is really meant to be an all-encompassing descriptor including couples that are dating, engaged, or married. Most members tend to be women, but men can join as well. For some groups, like the one I was a part of, we had female medical students attend our group as well.
I have yet to come across a different term that accurately represents our population while being concise. "Medical Student Significant Others" is a bit lengthy and doesn't easily roll off the tongue in conversation, although that is the official name that my husband used for the group when he applied for recognition (and funding!) from the university. "Support Group for Couples In Medicine" sounds like a therapy session. So, for our group, we just informally called ourselves "Medwives" and left it at that. Other groups might come up with a creative name that fits for them, such as "Resiterns," which is the resident and intern support group based out of the University of Texas Medical Branch in Galveston. There are no rules here, just what works for you and your group!
So what is a Medwives Support Group? Simply put, it is a group of people whose partners are in medical school that meet periodically to support each other as they experience the ups and downs of medical school. The group can be as casual or as formal as you like. It can also be a private group or affiliated with the university (more on this later). Medical students get a built-in social network by simply showing up to class and seeing their classmates every day, so extra effort needs to be made by their spouses/fiancees/significant others to find people with whom they can commiserate.
Having a partner in medical school is a big life-change. The time commitment and stress your partner is about to undertake in medical school will have great effects on your relationship. However, the biggest thing you can do to prepare for and persevere in this process is to find a good support network and connect with other significant others if you can. A natural bond is formed when people are all experiencing the same situation at the same time. These significant others "get it" without you trying to find the words to explain what you are going through. It can be an incredibly powerful form of support.
Why would you want to participate?
Beyond the natural bond formed between those having a similar experience, why would you want to start or participate in a Medwives group? First, if you've made a big move with your medical student, finding friends in a new city can be challenging, especially if you're not in school yourself. Attending classes or joining other groups is a good way to make connections, however, the people you meet may not be able to truly empathize with your situation as a medical student significant other. When times are rough, and you need someone to reach out to, you'll be more likely to reach out to another significant other or someone who is going through a similar thing as you. You can simply express, "This is hard," and no other explanation is needed.
Second, your partner will have very little time to meet people outside of medical school. Most of the friends your partner will make will be classmates, and if you've connected with the significant others of those classmates, it will be easier to have meetups!
How to find a medwives group
To see if there is already a group established, have your partner email one of the administrators to ask. Some schools have an ongoing group that you can join when your partner starts school. If you're lucky enough to be in a place that has a group in place, please give it a chance! Go to the first event, usually a "welcome event" of some sort. See who you meet and be open to possibilities. If you have a good time, put the next event on your calendar. If you end up really enjoying a conversation with someone, ask if they'd like to get together for coffee sometime before the next meetup. Exchange numbers or direct each other to your social media accounts, and "voila!" you have a potential friend.
If you don't jive with the group or the people you've met there, try not to fret. Sometimes different people show up to events at different times, so give it a couple chances before completely writing it off. You can also turn to online or national groups to see if they fit better, or seek out groups related to another interest you have.
Honestly, an established Medwives group can be somewhat rare, so you'll more likely be in a situation where you'll have to start a group. But don't worry, it's actually quite easy!
How to start a medwives group
Medical school classes are all different in their demographics. Some have more significant others and others have more single students. In my situation, my partner ended up in a class with an exceptionally large group of significant others. However even if there are a handful of you, it's worth it to create some sort of regular meetup to develop new friendships and have some support.
Here is the step-by-step process we used to create our group. At the beginning, we had no idea how many significant others there were, because we didn't know anyone yet! You just have to get started!
Step #1: Create a Google spreadsheet
Medical students tend to hangout in the same place online to ask each other questions and get information quickly. For my husband's school, they preferred Facebook Groups. Each class had their own closed group, and they checked it and used it religiously.
We posted a link to our Google spreadsheet on the Facebook group page and invited anyone who had a significant other that was interested in getting connected, to put their contact information on the list.
To our surprise, within a few days we had about 25 people on the list! People wanted to be connected and make friends.
Step #2: Create your first event
Through your partner asking around, or through contacting people on the spreadsheet, find one or two other significant others that are willing to spearhead things with you. For our first event, a couple of us planned a simple dinner and held a meetup at one of the Medwives' apartments. We had no idea how many people would show up, but it was a good way to get things started.
About 12 people showed up to that first event. Yes, it was a bit awkward. No one know each other, and we weren't sure if we had anything in common, but we were in this together, so comfort and possibly existed. Friendships were ready to be made.
Step #3: Decide when you'll meet again
If you have a good enough time, decide when to do it again. At the beginning of medical school, your partner is very busy, but you don't have very much going on yet! For us, we decided to meet one evening a week every week, and rotated houses. The host would provide dinner. It was a saving grace for most of us. We had somewhere to go. We had people to talk to and we were developing friendships. They understood our situation and that was all we needed at the beginning.
Step #4: Stay casual or go official
Depending on the size and needs of your group, you can just casually meet or you can become an official organization with your partner's school. Universities typically love student-organized and student-led groups and are willing to help you keep them running.
For our group, we received a small yearly stipend to spend on events. We had one event, which was a lot of fun, but it was more work than our group wanted to do. For us, it worked better to keep things simple. If you are willing to do a few extra steps, having a meetup paid for by the university is a good way to go! It also will make it easier for future significant others to find your group.
Important Tips
Let this be fun and organic. If no one is interested in being a part of the group, then no big deal. If the group doesn't really "gel," then no big deal. Maybe you can find just one other significant other to meet with regularly for coffee.
Be flexible. If people come sometimes but not other times, no worries. Keep the focus on supporting each other in whatever you need, whether it's more time together, or a little more space.
New groups will form. If your group is large enough, natural friendships will occur between individuals. They may want to start hanging out together outside of group get-togethers. As long as it is understood that this may happen and that respect be given in regards to talking about other events around those not invited, few problems will arise.
The group will change over time. Different medical school years bring about different needs. One year, the group may get together regularly, and then another year, everyone will be too busy. Go with the flow and schedule things as there is interest. For example, my group met almost every week for the first year (not including holidays). Second and third year had spurts of meeting and not meeting. Fourth year had very few meetups due to interview schedules and moves. But some of the best moments were the meetups where we celebrated new babies, engagements, and farewells together, none of which would have happened without taking those first steps to set up the group.
So there you have it. Best of luck on this new journey!