Last Updated on June 23, 2022 by Laura Turner
Dr. Janan Sarwar completed a Bachelor of Science in Biochemistry, Cellular, and Molecular Biology from the University of Tennessee and a Doctor of Pharmacy from the University of North Carolina Eshelman School of Pharmacy in Chapel Hill. Post PharmD, Dr. Sarwar stayed at UNC Pharmacy for a post-doctoral fellowship in Educational Technology and Research Development. During her fellowship, she developed training tools for faculty and clinical preceptors, and was involved in the design, implementation, and evaluation of innovative approaches to teaching and learning. She also has seven years of experience in community pharmacy as a pharmacy technician, intern pharmacist, and pharmacist in multiple settings. Dr. Sarwar is a member of the American Pharmacist Association and the American Association of College of Pharmacy and is actively engaged with her community. Currently, Dr. Sarwar is Director of Content Development in the Books and Digital Publishing Division of the American Pharmacists Association, where she serves as Editor-in-Chief of Pharmacy Library. She is a passionate advocate for technology and the advancement of the profession of pharmacy.
What led you to the pharmacy field?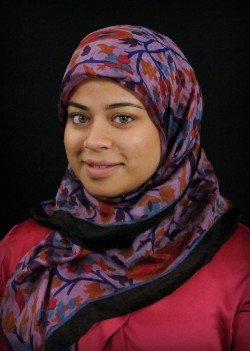 My mother is in healthcare and my father is an engineering professor, so I started off my undergraduate career hoping to fuse the two by studying biomedical engineering. Unfortunately, in the middle of my sophomore year I had an extreme drug reaction to an antibiotic, which led me to the ICU. My time recovering forced me to rethink my career path, and that's when I first considered pharmacy. After that I started shadowing different types of pharmacists, got a job in a community pharmacy setting, and joined a pre-pharmacy club at my university… the rest is history.
What has your educational and career journey been like?
My journey has been an evolving learning process. I ventured into pharmacy school being open-minded to trying new things, but I never expected ending up where I am now. I thought I would do research or community pharmacy only to immerse myself in those experiences and discover it really wasn't for me. I have learned from reading, shadowing, and asking lots of questions.
What has surprised you the most about your journey?
I have been surprised by the fact that there are so many ways to incorporate your passions and interests while pursuing your goals. I picked up photography in my undergraduate years and went on to open a small photography business while in pharmacy school. Photography led to meeting interesting people and learning unique skills, many of which I currently use in my career.
Tell us about your role with the American Pharmacists Association.
I am the Director of Content Development for the Books and Digital Publishing (BDP) department. BDP is a small publishing unit within the non-profit Association that is APhA. You may be familiar with some of our textbooks like the Handbook of Nonprescription Drugs or the Peripheral Brain for the Pharmacist. My role is to assist in publishing decisions, oversee the accuracy of content or revisions, and work with a variety of people such as authors, editors, internal staff, designers, compositors, and others to publish new content. I am also in charge of PharmacyLibrary, APhA's subscription-based website that is geared towards pharmacy education and content.
You completed post-doctoral fellowship in Educational Technology Research and Development. Can you expound a bit on what that entailed?
In my fourth year of pharmacy school as I was deciding between pursuing a residency (in community pharmacy) or accepting a staff pharmacist position at Kerr Drugs (now owned by Walgreens), one of my mentors approached me with the idea of pursuing a "non-traditional" fellowship at UNC Eshelman School of Pharmacy. I took the leap and learned so much in that year.
My main focus as a fellow was to serve as a liaison between the subject matter experts (pharmacy professors) and our Educational Technology team, which consisted of instructional designers, graphic designers, programmers, and educational researchers. We developed learning tools, videos, and interactive multimedia to teach difficult concepts and topics taught in pharmacy school to UNC pharmacy students. In addition to teaching experiences, I got to spend a part of each week in an underserved pharmacy clinic. This was an unforgettable year and the types of projects I worked on at UNC have helped me over the years!
How did your fellowship prepare you for your duties as Director of Content Development for APhA?
My fellowship experience at UNC reflected the variety of projects I get to work on now for PharmacyLibrary at APhA. The most significant skills I learned during my fellowship that are important to this day are project management and organization.

What does a typical work day look life for you?
In my current position at APhA, I balance each day with focused work on the upcoming due projects and also attending a handful of meetings. Much of the work I do is team-based, so it's very important to provide updates and keep everyone on the same page. I am constantly connected to my colleagues by phone, email, or Skype for Business and we interact with each other throughout the day. Although each day is different and can bring new challenges, I generally interact by phone or email with potential and current authors as well as with my teammates to discuss project updates and delegate tasks.

Talk to us about working remotely. What are the pros and cons of a work-from-home position?
My husband's pharmacy position caused us to relocate during the summer of 2018 (he is a specialty pharmacist). I had been working at the headquarters of APhA in Washington, DC for four years when I got the news about our move. It was an honor that APhA kept me on board as a remote employee. The pros are that I don't have to commute and that I can be extremely focused on my tasks without office distractions. But the cons are that I don't get to have as much face-to-face time with my colleagues and I can't just pop into someone's office. Often some of the best ideas are born from impromptu, organic conversations, which I can't quite replicate with an instant message or email.
Technology has been an important part of your career. Can you explain your passion for technology and how it can enhance the educational experience?
Technology is the reason I am able to work remotely! My passion for technology is how efficient it can make processes. In terms of education, technology allows easy collaboration, communication, and virtual experiences that sometimes a static textbook cannot do. All of these things can help enhance learning when used properly.

How can distance and online learning enhance the educational experience? Are there drawbacks to online learning, in your opinion?
Distance education and online learning platforms open the doors to asynchronous learning opportunities, where students can gain knowledge without the limitations of time or place. It is also very student-centric, which can be perfect for those that are independent learners. However, this type of learning is not for everyone and I believe online learning must be coupled with the ability to ask an expert when you have questions.

What are your recommendations to build leadership skills in one's profession and specifically in the pharmacy field?
Volunteer for new opportunities, ask questions, join committees, and take the lead on projects no matter how small the role. There are ways to volunteer whether locally or even nationally for an association. Volunteering will help you meet new people and can open doors that you didn't expect. Pharmacy truly is a small world!

How important is networking in pharmacy?
Networking is essential and can build your communication skills, increase confidence, and expand your career opportunities. In my current position, we constantly search for authors and peer reviewers. Networking has greatly helped make many of the connections we have today. I find networking is mutually beneficial because APhA gained a subject matter expert and the pharmacist we work with has gained an opportunity to grow in their career.

Is finding a mentor critical to success in pharmacy? How would you recommend students or new practitioners go about finding a mentor?
A mentor is absolutely critical. I have had several mentors along the years and each one has provided insight and guided me to open doors and introduced me to people that I couldn't be where I am without. To find a mentor, find out what interests you, and if you notice that there is someone who may be an expert in that field, go talk to them about it. See if they are open to you shadowing or contacting them with questions and go from there. Don't be shy – the worst that can happen is that they are unavailable to help you. Even if they can't help you, they may be able to recommend someone else to you.
How do you recommend a pharmacy student or pharmacist learn more about the educational, leadership, and administrative aspects of the pharmacy profession?
Be bold and don't hesitate to ask questions. Most professionals would love to answer a few questions about what they do for you, so it can be as simple as emailing a contact you see at a place you want to learn more about – whether it is a pharmacy school, association, or government agency. There are also pharmacy rotations that many of these places offer so you can get a chance to experience what it's like to work!
What else has aided in your success?
I have honestly been at the right place at the right time, but I think it helps that I am not afraid to give new things a try. Although I don't encourage people to say "yes" to everything, it is important to be open-minded and open to new experiences.

In your perspective, what is the biggest problem in pharmacy currently?
Burnout. Many of my colleagues that have pursued community pharmacy have expressed how they feel disrespected, tired, and worn out. With the opening of so many pharmacy schools in the past decade, there is less of a demand for community pharmacists with fewer open pharmacy positions, which also results in stress. Although I love to tell people about nontraditional pharmacy opportunities, the majority of pharmacists are practicing in community pharmacy. The feeling being overburdened is real and causing several of my friends to search for alternative jobs.

What advice do you have for balancing work and personal life?
I use the Getting Things Done® methodology to organize my personal tasks and work tasks, and if you haven't heard of it, I definitely recommend you look into it to help with productivity. It helps provide a way of documenting all of my tasks and organizing it by project (whether it's as simple as what tasks I need to do in order to make dinner on a weeknight or all the steps for publishing the next book).

What do you enjoy most about your profession?
Every day is different, with fun, new challenges. I get to work with a variety of people and am constantly learning about publishing and pharmacy. I absolutely love it!
What is your vision for the profession of pharmacy?
Pharmacists are one of the most accessible healthcare providers, and I look forward to the day pharmacists are all recognized as providers and can gain the respect of other healthcare professionals.
What advice would you give students who are wanting to pursue a career in pharmacy?
Be open to opportunities and explore all the possibilities before ruling anything out. Think outside of the box and look into unique opportunities that bring joy to you. Don't be discouraged by the thought of an over-saturation of pharmacy graduates, instead try to spend time discovering what interests you. There are several jobs one can do with a pharmacy degree that are atypical. For example, consider pharmacy informatics if you have an interest in technology, consider medical writing if you have a passion for publishing, look into pharmacovigilance if drug safety intrigues you, or pharmacogenomics if the idea of individualized drug therapy sounds interesting.
Is there anything else you'd like our readers to know about you or about pharmacy?
I love to meet new people and help develop their ideas. If you are interested in learning more about pharmacy publishing or have ideas that you want to develop, feel free to contact me!