Last Updated on June 22, 2022 by Laura Turner
Are you considering Diagnostic Radiology (DR) as your specialty? Here is what Diagnostic Radiology is all about and what to expect during residency.  
What is Diagnostic Radiology?
Diagnostic Radiology is a specialty where physicians use imaging to diagnose, manage, and provide therapeutic options for patients. Radiologists act as expert consults to referring physicians by interpreting imaging, generating accurate reports, and recommending further imaging, tests, or treatment. Medical imaging includes plain film or digital X-ray imaging, computed tomography (CT) scans, magnetic resonance imaging (MRI), fluoroscopy, nuclear medicine, and ultrasonography.
Diagnostic Radiology residency programs last five years: one in a clinical year of training and four are in Diagnostic Radiology. After residency, fellowships are one additional year and include Abdominal, Musculoskeletal, Women's or Breast, Cardiothoracic, Pediatric, Nuclear Medicine, and Emergency Imaging.  Some Neuroradiology programs and Interventional Radiology (IR) are now two years. However, there are now integrated IR programs at certain residencies where the amount of additional time training will still equal one year. 
Most Radiologists today do additional fellowship training. It has become increasingly rare for a Radiologist to go straight into practice (especially academic medicine) without a fellowship.  
Why should I consider Diagnostic Radiology as my specialty?
Diagnostic Radiology is a great field in that there are many ways to tailor it. You can be a generalist or subspecialize. Because Radiology can be performed remotely, a Radiologist can even work from home and sometimes even in other states. The job can also be customized to have as much or as little patient interaction and procedures as you desire. It is a specialty where you will never get bored due to the wide range of imaging and pathology you encounter every day. 
If you really enjoy puzzles and mysteries, then Radiology could be a perfect fit for you. Radiologists tend to be task and detail-oriented, can make an informed decision and move on quickly, and enjoy innovative equipment. The field also gives you the chance to continuously integrate all the anatomy, physiology, and pathology from multiple clinical specialties throughout your career. 
It is also one of the most technologically advanced fields in all of medicine. Even during a global pandemic, Radiology residents, fellows, and attendings were able to work safely from home. Medical students were even able to still participate in the rotation remotely.
Diagnostic Radiology is also one of the fields most known for a good work-life balance. And it is also consistently one of the most well-compensated specialties year after year.
Also, just one more fantastic thing about Radiology – it is the only specialty in all of medicine where women can actually be paid more than men.
Why not Radiology?
Radiology residency is a longer residency than primary care specialties. Most residents go on to do a fellowship, adding to the training time. Also, a lot more outside study time is required because there is less "learning on the job" from patient interaction. The workday also requires focused attention over a long period of time. In addition, your colleagues in other specialties may have some downtime during the day, but a Radiologist's study list is never empty for long, so you will always have a workload you have to tend to. 
Will I miss seeing patients?
Radiologists actually see patients more than you think! They perform procedures and treatments for patients in many different subspecialties. For instance, in Abdominal Imaging, you will perform fluoroscopic procedures and ultrasound-guided fine needle aspirations of the thyroid. In Women's Imaging, you perform breast biopsies and speak to patients directly about their imaging results. Musculoskeletal Imaging involves bone biopsies, joint aspirations, and injections. You even treat patients with radioactive pharmaceuticals in Nuclear Medicine. And of course, Interventional Radiology has a ton of patient interaction. 
How will you know if a Diagnostic Radiology residency program is a good fit for you?
It's always a good idea when applying or interviewing at any residency program to keep an open mind. Even if it's in a state or location you never even considered living in or, let alone, stepped foot in, you may never know how much you will like the program until you give it a chance. 
If you are interested in academic medicine or research, you may consider seeking a university-based hospital residency. This is also a good idea if you plan on sub-specializing. Academic centers are better equipped to match their graduates into fellowships both at the same institution and other hospitals. 
Also, it's a good idea to consider where you may want to practice in the future. Doing your residency close to where you want to live in the future at either an academic center or community hospital will help you create connections to land a job at your desired location.
I'm between choosing either Diagnostic Radiology or Interventional Radiology. What should I do?
Most programs understand that residents may be torn between these two specialties, especially now that IR has become its own residency path. Program directors actually encourage you to apply for both if you are truly indecisive about the two, and it will not count against you. That's because both disciplines have rotations in both DR and IR during residency. Most DR programs have at least four months of required IR rotations. 
How difficult is Diagnostic Radiology to match into?
Radiology was one of the most competitive specialties in the 2000s, reached a generational low in 2015, and has risen annually since 2016. This may continue to increase as the Radiology job market has opened back up in recent years. The 2018 ACR Commission on Human Resources reports a continued positive outlook for those seeking jobs as Radiologists. 
If you would like to see the residency competitiveness facts, you can view the NRMP's report for the 2020 match. 
What is a Diagnostic Radiology residency schedule like?
Although actual hours spend working vary by program, Radiology residencies are known for having some of the lightest work hours and the least amount of call weekend shifts. The typical workweek can be 45-60 hours a week on average. The typical workday is usually nine to 10 hours a day, and weekend shifts tend to be a few hours longer. 
Night call during residency varies more. Some institutions have residents taking a "night float" where they will work every night for a week and then alternate with a week of a daytime rotation. In other programs, residents may work a 16-24 hour call shift but then get a full "post-call" day off between shifts. 
You will also take call during the IR rotation. This is usually home call, and you only need to come to the hospital for emergent procedures. 
It is extremely rare for DR residents to violate Graduate Medical Education duty hour restrictions.
How can you take care of yourself during residency?
The stress of any residency can be taxing, so it is essential to set aside time for your personal life. Schedule activities you enjoy (such as reading things besides textbooks!), exercise, travel, and most importantly – time to spend with loved ones. It's nice to say yes to social invites to decompress but remember that it is really okay to say no too if you need time for yourself. 
Most residencies have special outreach programs to help mitigate physician burnout and promote resident wellness. And if you ever have feelings of despair or depression, always reach out to your significant other or support system of family and friends.
What resources are there for those considering Radiology as their specialty?
The AMER guide for applying to Radiology Residency is an excellent, highly recommended source.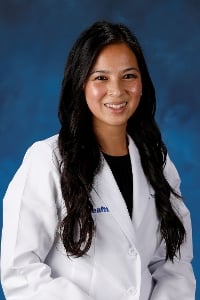 Karen Tran-Harding MD is a Radiology physician at the University of California, Irvine who is back home after 10 years of medical training in Kentucky. You can find her at howtheothersidethinks.com.