Last Updated on December 19, 2022 by Laura Turner
NRMP would eliminate the SOAP in favor of a two-phase main residency match
The National Resident Matching Program (NRMP) Board of Directors invited public comments on a proposed new residency matching process. The initial match would be moved forward a month, with the first phase Match Day in mid-February. The current Supplementary Offer and Acceptance Program (SOAP) would be eliminated in favor of a second round of matching, culminating in a second Match Day in mid-March.
The NRMP's stated reasons for this proposed change are to reduce stress on un-matched applicants, allow more time for applicant decision-making, and support a more holistic review of applicants by programs.
Students, physicians, and others have until September 3, 2022, to provide their feedback on the proposed change.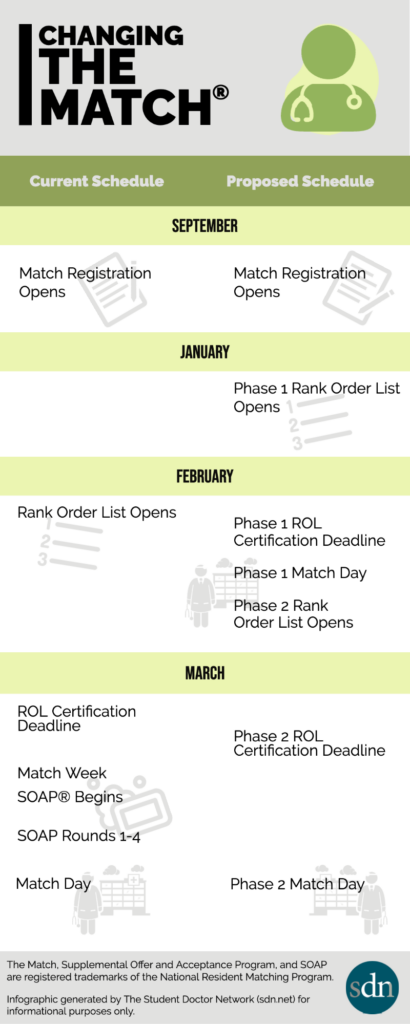 Potential Impacts of a Two-Phase Residency Match
Since the primary match round is shortened in the proposed schedule, the amount of time available for interviews is reduced by approximately a month. This reduction may increase the shift towards virtual interviews seen over the course of the COVID-19 pandemic.
A former program director who posts on Student Doctor Network commented that those in the second round will "have more time to worry/suffer/stress over not matching in the first round" than they do in the current SOAP timeline. Dr. Emil Chuck, Director of Advising Services for Health Professional Student Association (HPSA) also expressed concern for students who don't match in the first phase, wondering if students who match in the second phase will face a stigma. Currently, students who find a residency position through SOAP can celebrate Match Day with their peers potentially none the wiser. However, "the emphasis does appear to focus on more holistic processes and better diversity and mission goals," he said.
Dr. Brian Carmody, who blogs under the name "The Sherriff of Sodium" and advocates for medical students and residents, commented on Twitter that he "does not expect this to fix (or create) major problems, whichever way it goes."
History of Changes
The NRMP Match has evolved and changed multiple times.
What is The Match?
The Match matches fourth-year medical students (and medical school graduates) with available residency and fellowship positions. National Resident Matching Program (NRMP), a private non-profit, non-governmental organization runs The Match.
Why Does the Match Exist?
Before 1952, hospitals would compete fiercely to recruit medical students for residency positions. Because the number of positions was significantly larger than the number of graduating students, hospitals used high-pressure tactics called "exploding offers," requiring an immediate response to a residency position offer to attempt to fill their slots.(1)

The idea of The Match was proposed by Dr. Joe Mullin, Dean of the University of Chicago School of Medicine. Hospitals and students would each create a rank-ordered list, and the American Association of Medical Colleges (AAMC) would serve as a clearing house to match students to hospitals. 

The original version of The Match was implemented in 1952 and administered by a new organization, the National Resident Matching Program. The algorithm has been adjusted somewhat over the years, but the overall primary match process has not been significantly revised since its launch.(2)

What is The Scramble?
The Scramble is the name of the system used before 2012 for students who failed to match to a residency position. It was replaced by the Supplementary Offer and Acceptance Program (SOAP). 

By the mid-1980s, the number of graduating medical students had grown to consistently eclipse the number of available positions. This led to increasing numbers of students going unmatched, despite some residency slots going unfilled. To try and find a residency position, these students would be required to participate in "The Scramble." 

The NRMP would inform students on Monday of match week that they had not matched. The list of unfilled residency positions would be released on Tuesday of Match Week. With the support of their medical school and anyone else they could recruit, students would frantically submit applications to open slots through the Electronic Residency Application Service (ERAS) and via phone and fax. Most positions would fill within a few hours of the release of the list, so students offered a slot would be required, like their forebearers before The Match, to decide about selecting a position on the spot.
What is SOAP in The Match?
In 2012, the NRMP created a new, formalized process to replace the chaos of the scramble: SOAP, or the Supplementary Offer and Acceptance Program. The more structured SOAP process required all applications to go through ERAS. Students would submit applications and programs would interview students. Programs would then create preference lists used in several rounds of offers to unmatched applicants. In SOAP, students still have to make decisions within a few hours, but not at the instant that positions are offered.(3)

While an improvement over the Scramble, SOAP still compresses the effort to find an open position into a few extraordinarily stressful days before Match Day.
References
"The Match Part 1: Why Do We Have A Match?", Dr. Brian Carmody, January 26, 2020, https://thesheriffofsodium.com/2020/01/26/the-match-part-1-why-do-we-have-a-match/ (accessed August 4, 2022)
"The Origins, History, and Design of the Resident Match," Alvin E. Roth, Ph.D., February 19, 2003, https://jamanetwork.com/journals/jama/fullarticle/195998 (accessed August 4, 2022)
"Using SOAP to Clean Up the Scramble," Dr. Michelle Finkel, October 24, 2010, https://www.studentdoctor.net/2010/10/24/using-soap-to-clean-up-the-scramble/ (accessed August 4, 2022)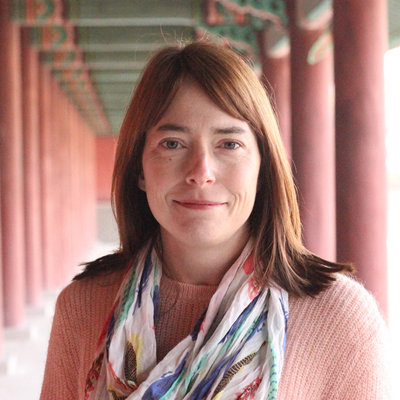 Laura Turner, MS, is the Executive Director of the Health Professional Student Association (HPSA), which publishes the Student Doctor Network (SDN). Prior to working with HPSA, she served for eight years as the Executive Director of SDN. At HPSA and SDN, Laura has been instrumental in providing students with tools and resources to pursue their aspirations in healthcare. Her previous roles include business analyst positions at The Capital Group and product management and marketing roles at software companies Paciolan, Adexa, and MSC Software.
In her current role at HPSA, Laura continues to drive innovation and forge partnerships to better support aspiring healthcare professionals. She is grateful for the opportunity to help countless individuals to achieve their dreams.