There's a popular phrase, "If you've seen one medical school… you've seen one medical school." Every school is completely different, so it's a good idea to thoroughly research what programs would be best for you before you start the application process.
What are you looking for?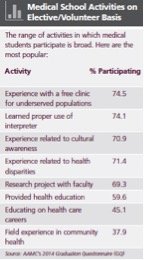 When you're deciding which medical schools to apply to, consider some of the same factors you weighed when applying to college: Are you looking for a public or private university? Do you want to attend school in your home state or out-of-state? You may also narrow your choices by considering the specialties offered or even which clubs and organizations are available to med students.