Last Updated on June 27, 2022 by Laura Turner
Dr. John Codwell III, a Detroit native, always wanted to be a doctor but didn't know what kind of doctor he wanted to be. While earning a B.A. at the University of Michigan, Codwell met a podiatrist whose practice focused on sports medicine and who worked with the university's basketball team. Having been an athlete himself for most of his life, playing football even into his college days, he understood the importance of good foot and ankle care for an athlete.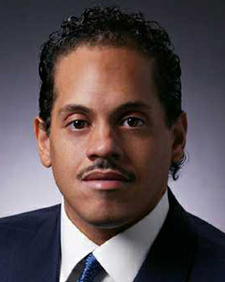 After graduation, Codwell attended Texas Southern University in Houston for post-graduate work in biology. While there he met a fellow classmate who was planning on attending podiatric medical school. "Podiatry grabbed me in two ways — with the ability to pursue sports medicine and with the uniqueness of the field," stated Dr. Codwell. "You can do so many different subspecialties in one specialty… that's what made me gravitate towards podiatric medicine."
Upon graduating from the Ohio College of Podiatric Medicine and completing a residency program, he opened a solo practice in 1995 in Houston. On average, Codwell sees 30 patients a day ranging in age from 3 months to 102 years.
His practice treats many types of patients including professional athletes and local high school and college athletes as well. He also serves as a team doctor for Texas Southern University and Rice University athletes. "I see a lot of football, basketball, and track athletes throughout the school year," says Codwell. For most doctors, working in a busy practice would leave little to no time for other activities. Not so for Dr. Codwell; he also finds time to be a mentor to students.
Codwell had been educating students and the public for years before joining the American Podiatric Medical Association's DPM Mentor Network Program at its inception seven years ago. As part of the APMA's DPM Mentor Network Program, he has spoken to pre-med students at Texas Southern University, Houston community colleges, and the University of Houston. "I enjoy educating students and the public on podiatry and on various foot problems… making folks aware of podiatric care is very important to me," he says. One of the key components that Codwell conveys to students is the dynamics of podiatric medicine — it's a field where one is able to wear many hats (i.e. surgeon, dermatologist, oncologist, etc.). He also conveys to students some of the attributes associated with being a podiatric physician, such as the flexibility to create your own work schedule, the potential to earn a lucrative salary, and the opportunity to be a part of the health care team in your community.
His optimism for his career is undoubtedly contagious and his message is received positively when he speaks to students, the public, and colleagues alike. "We offer a great service to the public and I think as podiatrists, we must be vocal about our profession," he says. Dr. Codwell is one podiatrist who is practicing what he preaches.
For more information on a career in podiatric medicine, visit the American Podiatric Medical Association's website at http://www.apma.org/careers. Or view a short video about the career on YouTube at http://www.youtube.com/watch?v=cqAGmzhKk7Y.