Last Updated on June 27, 2022 by Laura Turner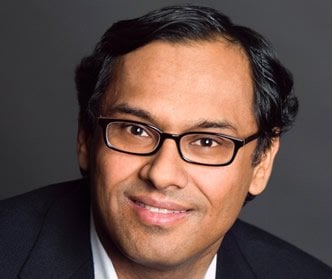 Sandeep Jauhar, MD, director of the Heart Failure Program at Long Island Medical Center, is author of Intern: A Doctor's Initiation. Dr. Jauhar's route to medicine was not entirely direct, as he earned a bachelor's degree ('89), master's degree ('91) and PhD ('95) in physics from the University of California, Berkeley, before graduating from Washington University School of Medicine ('98).
Dr. Jauhar served an internship in internal medicine at New York Presbyterian Hospital ('98-'99), followed by a residency in internal medicine at the same facility ('99-'01). Finally, he served a fellowship in cardiology with specialization in heart failure at New York University Medical Center ('01-'04).
He is board certified in cardiology and internal medicine from the American Board of Internal Medicine, and is a board certified Diplomate of the Certification Board of Nuclear Cardiology. Dr. Jauhar is also principal investigator in the EVEREST trial, in which he is studying the role of tolvaptan, an oral vasopressin antagonist, in the outpatient management of congestive heart failure.
What do you like most and least about being a physician and interacting with patients?
The need patients have for your time is both a privilege and a bane. I enjoy taking care of [them], helping them and sharing in their lives. That involves a certain amount of sacrifice of my own time. I run the heart failure program, where the patients are very needy – they need education about illness, my expertise. The medical management is dynamic and changes daily, as well as requires constant monitoring. Technology allows for up-to-the-minute monitoring, which leads to data overload.
Why did you choose your specialty?
I studied physics in college and grad school. Cardiology seems to be the closest to physics, so it made sense from a logical/mechanistic standpoint. The heart is a pump, so it made sense. I had pressure from my family as well (my brother is a cardiologist). Cardiology is a field with a lot of very effective therapy. I also think there's something special about the heart—it sparks cultural imagination, it's metaphorical and spiritual. Also a lot of members of the South Asian community suffer disproportionately from heart disease. A lot of young Indian men have coronary disease, and there's a lot of mystery around heart disease in my community.
Has your specialty met your expectations?
One of the big draws for me is that there are so many effective therapies. However, I chose a subspecialty that doesn't have a lot of therapies. I take care of the sickest of the sick, those with intractable heart failure. I never thought I'd enjoy taking care of this population, but I've found that the small things I do can go a long way and produce a lot of satisfaction and relief for my patients, even if it doesn't prolong life. It's a palliative approach.
Describe a typical day at work.
I get up at 6:30 a.m. and am into the hospital between 7:30 and 8 a.m. for morning report and discussion with fellows. I see outpatients from late morning to early afternoon. Then I might attend various administrative meetings. Afterwards, I round on inpatients. I'm usually home by 6 or 6:30 p.m. Once the kids have gone to bed, I try to get some writing done.
What mix of clinical/research/teaching work do you do? How much power do you have to change that mix?
Clinical is about 60 percent, teaching about 20 percent, and administrative about 10-15 percent. Not much in the way of research, but we do conduct randomized multi-standard trials – currently one using a novel drug for congestive heart failure derived from a hormone present in pregnant women.
If you took out educational loans, is/was paying them back a financial strain?
I was very fortunate that my father-in-law helped pay off my loans. But I know a lot of my colleagues struggle with paying off debt. That's why a lot of them don't want to do primary care. I think this debt skews decision making.
On average: How many hours a week do you work? How many hours do you sleep each night? How many weeks of vacation do you take?
When I'm not on call, I work 12 hours a day five days a week. I'm on call one out of every five weekends. I also spend one night a week in the emergency room, and I'm up for most of that. I get five weeks of vacation.
From your perspective, what is the biggest problem in health care today?
There's not enough access to healthcare. Expanding Medicaid to cover patients who are uninsured is not enough—a lot of doctors don't take Medicaid. There needs to be adequate access on the healthcare provider side. Medicine is extremely commercialized (this is the subject of my next book). Costs run rampant—so how do we institute effective cost control while maintaining quality? And how do we get doctors to buy into cost control knowing it will eat into their income? Pay for performance is a problem because it causes doctors to ignore other aspects of care and focus on what's rewarded.
You mention in internship that "there's no reward for clinical excellence, only the sound of your own hand patting your back." Why do you think that is? How could it change?
The time factor. In teaching hospitals everything is compressed. There's a big emphasis on getting patients in and out—we're only paid for the admission, no matter how long they stay. There isn't the luxury of ruminating on problems. There was a time doctors would put in the hours. Not there's less time per patient, and the patients in the hospital now are a lot sicker than they used to be. Interns and residents don't savor difficult cases due to external pressures. There's also a disdain for unique, original thinking. The emphasis is on checklists, following protocols.
How does the fear of a lawsuit play into that?
The checklists and protocols or guidelines have morphed into a prescription for care, rather than broad guidelines for care. Not doing what we know works is the biggest problem in healthcare. We take it too far and stifle innovation, using a one-size-fits-all approach. It's a disservice to interns and residents to train them that way.
How did the residency work hour limits trade one set of problems for another?
A rested resident doesn't know you. A tired resident does. It's about continuity of care. There's a big push to limit on call to 16 hours, followed by a five-hour nap, then a few hours to tie things up before leaving. This increases the number of handoffs. A lot of what we do in medicine can be done in fatiguing conditions. I'm not advocating for 36 hours on for a resident, because that can be dangerous for the patient and the resident. But you have to see enough stuff as an intern/resident to practice independently. There is no right answer. We need to experiment with limits.
Do you think the "July phenomenon" still exists? Why or why not?
It's never been proven, but people talk about it.
You helped an NPO patient avoid a feeding tube, and likely a major case of depression. What made you give him one more chance rather than write him off?
He didn't want a feeding tube. I have always sympathized with people who have swallowing difficulties. I love to eat! Some patients are ok with the idea of a life of liquid fed through a tube, but if not, there are patients who would do just as well with careful hand feeding. This can be time consuming, and too often a tube is just put in.
What did you learn from the very first code you ran (the HIV patient)?
I was always very afraid of running the code team, but I got passively good at it. I didn't enjoy barking orders. My first code was a disaster. Once you lose people in a situation, it's hard to reassert yourself in the moment. A lot of it was memorizing protocols. You have to know your stuff.
What are the pros and cons of following in a sibling's footsteps in medicine?
It was hard living up to expectations. Rajiv (my brother) is confident, quick witted, fast, charismatic, and handles pressure well. It was positive to follow his lead, as well.
Along the way, you freelanced in journalism. Why did you find time for writing? Why was it important to you?
Writing was a way to process what I was doing in the hospital. I would create a narrative to understand things. I also find it a relaxing process—I enjoy the process of writing and putting my opinions out there. I'm fortunate to be skilled at writing, and people wanted to read what I wrote. Medicine is a fertile field for writing. We're allowed into patients' lives in a deep, intimate way.
Why do you think doctors are uncomfortable with uncertainty?
We have a sense from early on that doctors have the answers. Sometimes there is no answer, and we must come to accept it. Patients can have a hard time accepting that. When my girlfriend had lupus, I couldn't understand why there were no answers about lupus. In physics there is so little uncertainty, most things you can predict.
Why do you think your unwillingness to act reflexively makes you a better doctor?
At first I thought I had to be willing to act in an impulsive way sometimes. I was worried I wouldn't be a good intern/resident/doctor because I didn't act impulsively. As I went on in medicine, I saw that my lack of impulsiveness was more of a strength.
Juliet Farmer is a writer with over 19 years of experience in various industries and a contributor to numerous consumer and trade publications and websites.