Last Updated on May 2, 2023 by Laura Turner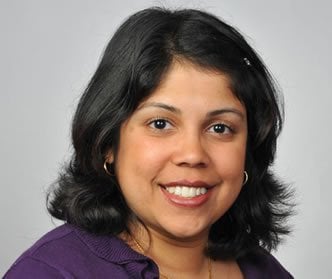 Sapna Kudchadkar is the Anesthesiologist-in-Chief of the Johns Hopkins Children's Center and Vice Chair for Pediatric Anesthesiology and Critical Care Medicine at the Johns Hopkins University School of Medicine in Baltimore, Maryland.
Dr. Kudchadkar has been published in Contemporary Pediatrics, Pain Medicine, and Contemporary Critical Care, and she has contributed chapters to Johns Hopkins Anesthesiology Handbook, Clinical Competencies in Anesthesiology: A Case-based Approach, and Essence of Anesthesia Practice. She is a member of the American Academy of Pediatrics, the American Society of Anesthesiologists, the Society of Critical Care Medicine, the Society for Pediatric Anesthesia, and the American Thoracic Society.
When did you first decide to become a doctor? Why?
I don't have a specific "I knew I wanted to be a doctor when …." story. I do remember when my little brother was admitted to the hospital with his first asthma exacerbation when he was two and I was eight, and how scared my parents were, rushing to the emergency room when his breathing was so scary, and watching everything miraculously get better overnight thanks to these caring nurses and doctors. Wanting to be a doctor is all I can remember, really, and it's crazy because no one in my close family is a physician, and my parents never pushed me to go into medicine. It just kind of happened.
How/why did you choose the medical school you went to?
I grew up in Illinois, and wanted to be relatively close to family when I was in school. I was in St. Louis for college and loved being in a larger city, so the University of Chicago was at the top of my list. When I got the acceptance phone call, it was a no-brainer. My interview day had been really amazing and everyone I met was so down to earth and welcoming, even in such a rigorous academic environment. It was perfect.
Why did you decide to specialize in the pediatrics-anesthesia combination?
When I was in training, there was no formal combined pediatrics and anesthesiology residency track. I fell in love with pediatrics during my third year clinical rotations in medical school, although I really enjoyed my two-week anesthesiology rotation as well. In the end, I only wanted to take care of kids, so the choice was easy. During my second year of pediatrics residency at Johns Hopkins, I rotated through the PICU, where some of my attendings were both board-certified pediatric intensivists and anesthesiologists. I was intrigued because I didn't know this was even a possibility as a career, and I had loved being in the operating room as a medical student.
Being a pediatric intensivist was a natural choice for me because I thrive in high-pressure situations and love the fast pace of the ICU. It seemed like perfect combination, having the opportunity to take care of critically ill children in the ICU and take care of children in the operating room, both healthy and sick. I spent a month in the operating room with pediatric anesthesiologists to see if pursuing anesthesia was a good fit, which included doing intubations, placing IVs and arterial lines. I was hooked. It was like being in your own mini ICU, managing each patient's individual physiology in the context of their surgical procedure and ensuring they were comfortable at the end of it. So I decided to pursue anesthesia residency and follow that with fellowships in pediatric critical care and anesthesia.
What surprised you the most about your medical studies?
It was so hard! I knew it wouldn't be easy, but you work so hard in college so you can get into med school, so you figure that med school should be a similar ball game. But the first two years were extremely challenging for me. By the time third year came around, it was so exciting to apply everything we learned to real patients.
If you had it to do all over again, would you still become a pediatrician-anesthesiologist? (Why or why not? What would you have done instead?)
Without a doubt, yes! I love the variety in my work, and the clear overlap between pediatric anesthesiology and pediatric critical care makes it very fun, applying skills and knowledge from one part of my training to the other, and teaching residents and fellows. The flexibility that I have in how I allocate my time to clinical work, research and teaching is invaluable as well.
Has being a pediatrician-anesthesiologist met your expectations? Why?
Definitely. In fact, it's exceeded my expectations. It's never a chore to come to work, because it's something different every day.
What do you like most about being a pediatrician-anesthesiologist?
Apart from loving what I do from a clinical standpoint, I am developing a career as a clinician-scientist investigating a clinical research problem using my experience and training in both fields, and that's been very rewarding. Sedation management in critically ill children is one of the most challenging aspects of pediatric critical care, and pediatric anesthesiologists often manage these children once they leave the PICU due to sedative/analgesic tolerance and withdrawal. It's been wonderful for multidisciplinary collaborations, I get to work closely with pulmonologists and neurologists through my research. I also enjoy knowing that I have options in my career in the future, if I want to work only in the PICU or only in the OR someday.
What do you like least about being a pediatrician-anesthesiologist?
That's a difficult question. It's definitely a lot of hard work to keep up with both fields and make sure you're doing an excellent job in both. Oh, and the board exams! Pediatric board exam, followed by anesthesia written boards, followed by anesthesia oral boards, followed by pediatric critical care boards. And I still have to take my pediatric anesthesia boards (a new exam instituted this year)!
What was it like finding a job in your chosen career field? What were your options and why did you decide what you did?
It was pretty straightforward for me because when it came time to look for a faculty position, we were dedicated to the Baltimore-Washington area because of my husband's career and we just love Maryland. I knew I wanted to stay in academics because of my research interests, but also needed to find a position where the combination of working in the PICU and OR would be seamless. Staying at Hopkins was ideal because I knew I was in great company, there are several other combined peds intensivist-anesthesiologists here. The opportunity to get formal training in clinical research design and methodology at the Bloomberg School of Public Health was the clincher.
Describe a typical day at work. (How much time per week are you working in the operating room as an anesthesiologist? How much time in the pediatric ICU? How much time at the University? How much say do you have in the mix?)
Things are a little unconventional currently because of my grant funding and research obligations–I spent my first year as faculty at the public health school doing full-time course work toward my Ph.D., but I still worked in the OR and PICU and took call throughout the year. My clinical time is spent 50:50 in the OR and the PICU, and when not doing research, the usual clinical commitment is three days per week, with 30 to 35 in-house calls per year. A typical OR day starts at 6:30 a.m. and ends generally by 4 or 5 p.m., and a typical day in the PICU starts at 7 a.m. and ends around 6 p.m. So it varies significantly–but that's what I love about it. PICU weeks are five to seven day stretches, and OR days are interspersed throughout. On non-clinical days, we do research, administrative work, and teaching. Many of my colleagues teach at the medical school, some run their respective fellowship programs, others are in the lab and others do clinical research.
On average: How many hours a week do you work? How many hours do you sleep per night? How many weeks of vacation do you take? How much flexibility do you have in any/all of those?
If I have to come up with an average, I would say 50 hours a week. I love sleep, (and it's a focus of my research in the PICU), so I try to get at least six hours a night, seven if I'm lucky. Vacation is four weeks per year, and two of those weeks I try to make sure we do a family trip somewhere. As I mentioned above, this is all very flexible. My colleagues and I work together to make sure everyone's vacation requests are fulfilled, and come to each other's aid when the inevitable thing called "life" comes up– kids at home are sick, etc.– everyone has got each other's back. It's a great work environment.
Are you satisfied with your income? Explain.
I am very satisfied with my income. Anesthesia is particularly attractive when you consider possibly transitioning to a full-time or part-time position someday. ICU "burnout" isn't an issue from a salary perspective because I will always have other options.
If you took out educational loans, is/was paying them back a financial strain? Explain.
I only had about a $100K in educational loans when I finished medical school thanks to a lot of pathologic frugality and part-time work in college and med school (waitressing, being an RA, research assistant, etc.). I also graduated at a time when interest rates were reasonable and I could consolidate my loans. So paying back loans was challenging, but manageable. My husband was a law student when I started residency, and I wasn't eligible for deferment so that was a very rough period. We continued to chip away and make small payments each month as we could afford it, which was very important, and there were incentives for continuous on-time payments, so that paid off, literally. Once I got my research project together, I applied for and received an NIH Loan Repayment Program Award, which has helped a great deal.
In your position now, knowing what you do – what would you say to yourself when you started your pediatrician-anesthesiologist career?
Put your seat belt on! The training is long and arduous, but very rewarding.
What information/advice do you wish you had known when you were beginning your pediatric-anesthesiology training?
I wish I had known how hard it would be to learn two completely different fields. I always felt like I was on a steep learning curve. Once pediatrics residency was finished, I had to jump right into taking care of adults, learning the art of anesthesia–a complete 180. There were many stretches of time of always feeling behind. For someone who left medical school only intending to take care of kids for the rest of my life, it was quite something to take care of adults during anesthesia residency! But I quickly learned that caring for these adults during anesthesiology residency was imperative to my training, and I had some truly exceptional teaching in the adult ICUs as an anesthesia resident, which I have carried through to my pediatric critical care experiences.
From your perspective, what is the biggest problem in health care today?
My perspective for health care will always be a child-centered one. I worry about the future of our children in this country, as a huge number of children don't get the preventative medicine that they need and deserve due to a lack of resources, and poor nutrition and obesity are major adverse players in a child's development into adulthood. Although I respect parents' rights to parent in a way that fits for their family, it pains me to see so many children go unvaccinated against preventable but potentially deadly diseases. One of the most emotional aspects of my job as a pediatric intensivist is caring for children of abuse, abuse that may have been preventable had that child had access to the resources that they deserved. Our children need to be a major priority, for the future of our society.
Where do you see pediatrics-anesthesiology in 10 years?
I'm excited because the combined pediatrics-anesthesia residency has created and will grow a community of physicians with a unique training background that can branch into a numerous career paths. Opportunities range from clinical research, to splitting time between the PICU and the OR, to pediatric pain medicine, or running a pediatric sedation service as a hospitalist, to name a few. So many options. In 10 years I see a large group of dual-trained physicians who are making a major impact in the care of children with complex illnesses in a number of different venues.
What types of outreach/volunteer work do you do, if any?
Because I have small children at home, I haven't been a part of some of the really amazing international outreach opportunities available for pediatric anesthesiologists and intensivists–time at home with them right now is too valuable. But I take advantage of as many opportunities as I can to teach my kids about the importance of giving back– we do charity bike rides and runs as a family for pediatric causes, which makes the kids feel like they're involved in my career as well. For example, recently my son and I did a six-mile bike ride for the Save-a-Limb foundation in Baltimore. It was awesome, I got a workout and he raised a lot of money for a great cause.
Do you have family? If so, do you have enough time to spend with them? How do you balance work and life outside of work?
I have a husband and two kids, ages three and six. I had my oldest during my third year of pediatric residency and my second during my first year of PICU fellowship. Work-life balance, or working on work-life balance is my first and most important priority. Choosing an academic career with flexibility has been the key for me. I'm usually able to pick my kids up from school/day-care, and take them there in the morning, unless I'm on service in the PICU or have to stay late in the OR. My husband is fantastic, and definitely takes on his share of parenting responsibilities, which makes it all doable. We don't have a nanny, and my pre-school age child goes to daycare during the day, which means figuring out how to pick up and drop off two kids from two different places each day. Having a research career means that a lot of work gets done after the kids go to bed, like writing grants and manuscripts. But it also means I can focus on my family when they need me.
That's not to say things have been always been perfect. I'm glad I had my kids during training, but there were some very difficult periods, trying to keep my head above water. For example, my first child was four months old when I started anesthesia residency. Being committed to breastfeeding, it was stressful figuring out when I could get time out of the OR to pump, and not knowing what time I'd be done with my cases to pick him up from daycare if my husband was out of town or had a late meeting. I'm not the mom who regularly chaperones field trips at school like some other parents do, and I will always feel that internal struggle of feeling like I'm never doing enough—a struggle that many physician-moms and dads deal with each day. Sometimes it takes a lot of creativity, but we maximize all of the time that we are together, and that's what makes the difference.
Do you have any final piece of advice for students interested in pursuing pediatrics-anesthesiology as a career?
I think it takes a lot of foresight to know as a medical student that this is a career track that you want to pursue. You have to have a clear vision for how you see your career playing out, and that vision should include one of the possible career trajectories that only this training program can provide. For example, if you know you love anesthesiology, and you love kids, then it may be perfect for you to pursue anesthesia residency and a pediatric anesthesia fellowship. If you like the ICU and you love kids, then a peds residency followed by PICU fellowship may be for you. But if you want to have a career which requires an intimate understanding of both pediatrics and anesthesiology, then this is the right choice for you. For example, if you know that you want to take care of kids both in the OR and in the ICU, then this is the way to do it– keeping in mind that after the five-year residency there will be at least three years of fellowship to follow. If you want to head a pediatric sedation service and work as a pediatric hospitalist, you might pursue this residency and follow it with a pediatric anesthesia fellowship.
I think it is also important to talk to folks who are dual-trained in pediatrics-anesthesia and find out what they are doing with their careers, both junior and senior faculty. You need to get an idea of how these people's careers evolved over time. During medical school, everyone gets a core clerkship with several weeks in pediatrics, but anesthesiology exposure varies—if you are thinking about this track as a possibility, be sure you spend a good chunk of time in an anesthesia rotation, making sure the OR environment and anesthesia as a specialty is right for you. All in all, there are so many ways you can develop your career after combined training in pediatrics and anesthesiology. It's a competitive residency program and only a handful of programs offer this training, but if you have a vision for your career that would be best served by this rigorous program, then it's definitely for you.
Juliet Farmer is a writer with over 19 years of experience in various industries and a contributor to numerous consumer and trade publications and websites.